The veg box etailer has experienced its share of ups and downs, but the future looks bright.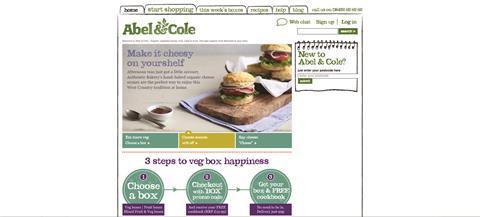 William Jackson Food Group's acquisition of organic vegetable box retailer Abel & Cole last year surprised the market but may prove to have been an astute buy.
When it went up for sale grocers such as Morrisons, Tesco and The Co-operative were expected to swoop for the etailer. However, it was William Jackson, owner of the Aunt Bessie's food brand, that emerged victorious last October.
The sale, for an undisclosed sum, marked a return to retail for William Jackson, which sold its Jacksons convenience business to Sainsbury's in 2004.
Abel & Cole was founded by Keith Abel and Paul Cole in 1988, selling potatoes door-to-door in south London before quickly branching out into organic vegetables. The retailer, alongside rival Riverford Organics, became synonymous with both the organic and vegetable delivery markets as it built a business now estimated to account for 25% of the UK organic veg box market.
Cole exited the business in 2000 to set up a wholesale firm, but the company enjoyed strong growth during the first half of the decade.
Its weekly 'lucky dip' vegetable delivery, as well as a strong emphasis on quality service from the drivers of its distinctive yellow vans, enticed a growing number of middle-class shoppers increasingly interested in the provenance of food. The retailer also diversified its offer to encompass fruit, dairy, meat, fish and ready meals.
The wider organic market also continued to grow as reports over the potential health effects of pesticides on fresh produce drove custom to the category. The Soil Association, which certifies organic products, stated that the market rose steadily to reach £2.1bn by 2008.
Amid this growth, private equity firm Phoenix Equity Partners took a majority stake in the business, which valued it at between £30m and £40m.
However, the onset of the economic downturn caused shoppers to shun the premium organic category in favour of cheaper alternatives. A high-profile report by the Food Standards Agency in 2009 added insult to injury in concluding that organic produce was no healthier than conventionally produced items and offered no significant nutritional benefits.
Abel & Cole reported a £3.5m loss in 2008/09, while its holding company's losses ran to £27m.
In 2010, Abel, who had retained a stake as part of the Phoenix deal but stepped back from day-to-day involvement, returned as chief executive. Simultaneously, Abel and Phoenix were forced to give up parts of their stakes by Lloyds TSB, which pushed through a debt-for-equity deal.
The measures fed through into improved performance at Abel & Cole and Lloyds held back on selling the company in 2011 as things began to look up.
The organic market slumped to £1.7bn last year as big grocers shrunk the number of products stocked. However, Abel & Cole's sales soared 30.1% to £46.5m in 2011/12 on the back of a 24.6% jump the previous year.
The retailer's investments in quality and extension of product ranges, plus a boost in customer numbers helped drive sales.
Management, which now consists of Abel as chairman and former chief operating officer Ted Bell as managing director, is confident of beating 2012/13 sales performance targets of £57.5m.
Abel & Cole may also benefit from an increased focus on food sourcing as a result of the horse meat scandal, as transparency and visibility of the supply chain are drivers in gaining custom.
The improvement in its performance is likely to have influenced the strategies of others. Upmarket etailer Ocado launched its own box scheme in 2011 while Tesco, in an exclusive tie-up with organic supplier Tio, began its Soil and Seed veg box scheme last year - although it was suspended last month following IT issues.
Abel & Cole may remain in a niche sector of the grocery market, but its quirky marketing, ethical credentials and product range could ensure the Wimbledon-based etailer serves up an ace this year.
At a glance
Owner William Jackson Food Group
Chairman Keith Abel
Managing director Ted Bell
2011/12 sales £46.5m
2011/12 EBITDA £4.6m