The Co-operative Group is seeking to emerge from the cloud of controversy enshrouding the business as a modern, streamlined company.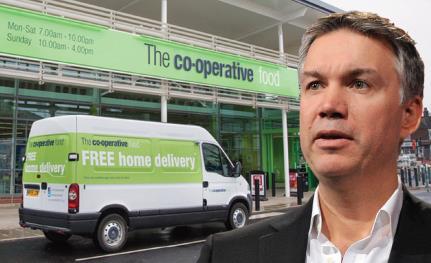 A "root and branch" review, launched on Monday, is understood to be an "open process with no preconditions", according to a source. The hope is to deliver a modern structure while maintaining the Co-op's ethical heritage.
Co-op group chief executive Euan Sutherland, who joined in May, is understood to be fighting to reinvent the mutual, which has a complex corporate structure.
The Co-op's review will be led by temporary chairman Ursula Lidbetter, who replaces Co-op chairman Len Wardle.
Wardle brought forward his retirement by seven months this week after taking responsibility for former Co-op Bank chairman Paul Flowers' appointment.
A video of Flowers allegedly buying illegal drugs emerged last week and the scandal has engulfed the mutual and shined the spotlight on the Co-op's ethical credentials and unique corporate structure.
Wardle's permanent successor is expected to join from outside the organisation. One Co-op source said: "Chairing that business requires someone with a cultural affinity to the Co-op but relevant professional experience to chair a large organisation."
There is a growing impetus for change within the £13bn mutual. The insider said: "Euan has the mindset for change. There is a demand to reinvent the Co-op, people are frustrated by what has gone on but there's a keen desire to draw a line under the past."
Sutherland has been backed by several insiders to lead the transformation.
One former Co-op executive called for a reformation of the group board, at present comprised of elected Co-op members but not the chief executive.
He said: "It has to be done. The only way it will come about is if the regulator puts pressure on the banking unit."
Co-op group financial officer Richard Pennycook told Retail Week: "There is still a huge relevance to the Co-op and what it stands for.
"There has been a failure of leadership and new leadership has been appointed to fix that."
Chancellor George Osborne ordered an inquiry into the problems at the bank on Wednesday.
Verdict senior analyst Andrew Stevens said: "The real strength Co-op has is its ethical stance. If it can salvage that and make it the foundation from which to re-build a local retail brand then it has a future.
"If membership numbers slide because of everything that has happened, then there is a real risk to the food business as it completely eliminates its one competitive edge over the rest of the grocers."