Christmas food shopping will be "squeezed" this year because Christmas Day falls on a Tuesday, said Sainsbury's group commercial director Mike Coupe.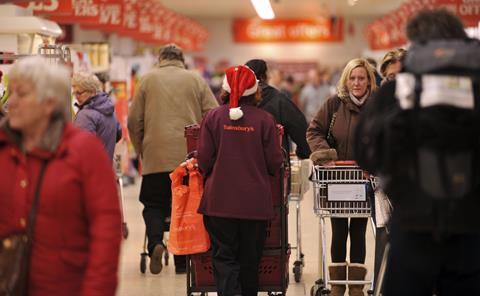 Speaking at the Sainsbury's Kiln Lane store in Epsom, Coupe said the 23rd is traditionally grocers' busiest shopping day but this year it falls on a Sunday and large supermarkets are subject to Sunday Trading hours.
Sainsbury's will open an hour earlier on the Sunday for browsing and "load up our convenience stores with products customers might have forgotten".
He said he expected the Sunday to still be its busiest per hour, peaking between 12 to 1pm, but said evidence from 2007 when Christmas Day fell on a Tuesday showed that customers spread their shopping from the Saturday to the Monday. However, he said the 23rd will still be "the busiest ever day in grocery retailing".
He said some larger stores will have a full bank of checkouts in operation for an hour after closing on the Sunday to "help customers get through the tills" which it has not done previously.
Head of convenience Simon Twigger said he is expecting Christmas Eve to be the busiest day for convenience stores and they will be stocked with items such as brandy butter, foil and sellotape in case shoppers have forgotten any of those essentials.
Sainsbury's head of online Jon Rudoe said its busiest day for online ordering came on December 2 when it released the 23rd as a delivery slot. Over Christmas online orders will start to be picked at 2am. The grocer averages 165,000 orders per week and two weeks ago hit 200,000 a week.
Own-brand to stand out over Christmas
Shoppers will also move towards own label products this Christmas then "batten down the hatches" in January, said Coupe.
Coupe said he expected shoppers to stock up on own label including its Basics, By Sainsbury's range, and top end Taste The Difference.
"Shoppers want a quality Christmas and own label offers quality at 20-30% cheaper than brands," he said. "They are continuing to be very careful about the way they shop."
He said shoppers will rein in spending in January but added: "In theory it shouldn't be any tougher than last January but it won't be any better either. It is still a very fragile market."
Sainsbury's has 581 food products in its Christmas food range, with 64% of those new or improved. It has introduced products such as By Sainsbury's goose fat this year.
Big sellers are also Taste the Difference Prosecco and Taste the Difference Vintage Cava - last Christmas Sainsbury's sold nearly 250,000 bottles of the former and 76,000 bottles of the latter. Also, half of all bottles of champagne sold in a supermarket are sold at Sainsbury's.
Non-food growing at three times the rate of food
In non-food, Sainsbury's has 1,128 products in its seasonal range. Non-food is growing at three times the rate of food at Sainsbury's.
Head of non-food Roger Burnley said clothing is up 17% year on year and is the 7th largest clothing retailer by volume.
"We've really worked on lingerie and benchmarked against Marks & Spencer," said Burnley. He said Sainsbury's sells a bra every 15 seconds, and a pair of briefs every 10 seconds. He said the majority of lingerie is its own brand, TU, and it has also launched a TU Luxury range.
Sainsbury's is also the fourth largest retailer by volume in kidswear, and is now the UK's biggest retailer of children's fancy dress.
Big sellers in non-food include ipads, autobiographies such as Cheryl Cole and Bradley Wiggins, and Nerf toys.


Sainsbury's Christmas in Numbers
581 products in Christmas food range
90,000 Norfolk Black and Bronze turkeys expected to be sold
13 million Taste the Difference and By Sainsbury's pigs in blankets expected to be sold
52 million sprouts expected to be sold
56 million mince pies expected to be sold
5.3 million rolls of wrapping paper expected to be sold
500,000 sets of pyjamas expected to be sold
1.8 million Christmas puddings sold last year
£100 million of Nectar points were redeemed in the run up to Christmas last year
1,222 tonnes of salt is on hand for potential bad weather, with an option for 442 tonnes more