Against a backdrop of relentless discounters, a resurgent Tesco and a recovering Asda, Sainsbury's put out its first-quarter update this morning, putting a brave face on what might be considered a tepid set of numbers.
I'm always keen to accentuate the positive, so was pleased to hear about further investments in lower prices, better availability, improved health and beauty departments, and market share gains in clothing.
Sainsbury's also trumpeted its work on store refreshes, plastic reduction, growth in its Taste the Difference and plant-based ranges, further progress in the Argos assimilation and the introduction of new technologies.
All great on paper, but I always like the feet-on-the-ground approach, so I trundled off to my local Sainsbury's superstore to take a punter's eye view on what a typical shopper might be seeing in a typical store.
Undermined effort
First, the good news. Availability was pretty much bang on. A few gaps, of course, but show me a store that doesn't have them.
This outlet looked in very good condition in produce and chilled and, overall, the store was in generally fine fettle in terms of standards and housekeeping.
Equally impressive was the robust action on pricing. The 'lockdown' mechanic has been expanded across the entire store – the initial implementation that was esoteric, to say the least – and the value proposition was also underpinned by some solid gondola-end trading, comprising general price reductions, round pricing and some nice seasonal themes like 'thank you, teacher' for the end of term.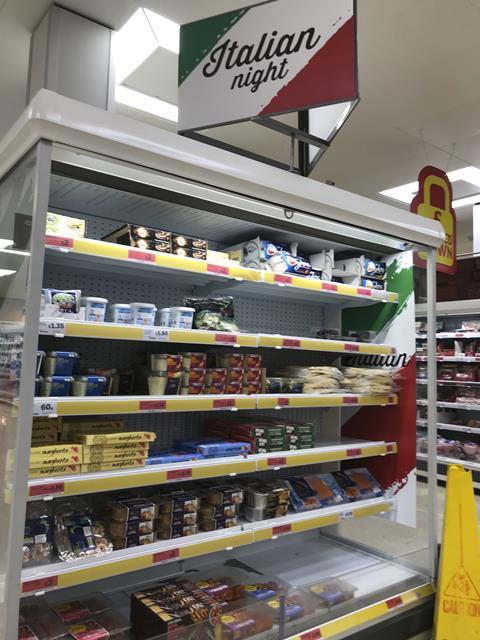 The weak links in terms of value included a bulk end that bordered on the random: 5kg sacks of pasta sat alongside giant bottles of fabric conditioner. Nothing inherently disappointing here – Tesco does the same – but even the most cursory look at the demographic and Nectar data for this store would suggest that pasta is not the carbohydrate of choice for most local consumers.
The 5x Nectar points deal on produce and proteins intuitively felt like added value, but I suspect many shoppers have forgotten why they are collecting Nectar points in the first place.
There were some great shopper marketing touches – the Build Your Own Picnic chilled end was excellent – but these were undermined somewhat by efforts like the Italian Night chilled end full of those Italian classics like hummus, feta, beetroot and potato salad.
The store was awash with point-of-sale locations like branded shippers and on-shelf signage for exclusive contests, new items and general price messaging, leaving me at least a little disoriented. Sure, I'd love a trip to California, a hamper or myriad other prizes, but I'd also appreciate a little clarity and simplicity.
No pizazz
Elsewhere in the store, the mini Argos in the corner was present and correct, and actually doing some business, but the rest of the general merchandise assortment was lacklustre. Not in terms of product, which is great, but the merchandising, which lacks any of the department store-style pizazz or theatre that I've seen in many other Sainsbury's stores around the country.
Tu, for example, is an impressive range but is less convincing when heaped on standard supermarket racking. Ditto health and beauty – all the pretty headers and spotlights in the world cannot differentiate this offering from those found in competitor stores elsewhere in the area.
"There is still some way to go before this Sainsbury's store becomes my default destination"
Overall, it was a solid shopping experience, topped off by some typically lovely service at the checkout.
Obviously, should this store be on the refurbishment list, I would be delighted and it would certainly receive more of my cash. But this could also be achieved with a better eye for detail, a bit of new kit in general merchandise and less reliance on supplier money.
I have a fondness for Sainsbury's – and this store – but there is still some way to go before it becomes my default destination.
Bryan Roberts is global insights director at TCC Global