Asda will review its price promotions after the competition watchdog singled it out following an investigation into supermarket pricing tactics.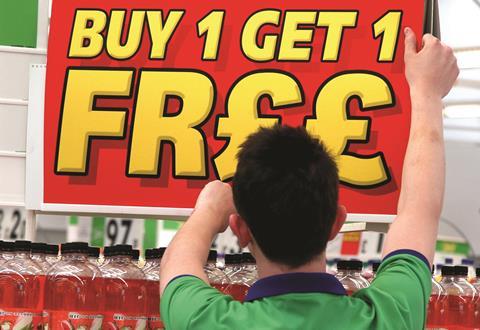 The Walmart-owned grocer has already started making changes to its 'was/now' and multi-buy promotions following talks with the Competition and Markets Authority (CMA).
"Supermarkets generally take compliance seriously, but there were some promotional practices that could mislead shoppers."

CMA executive director of enforcement Michael Grenfell
The changes will be fully implemented by August 2016 and the CMA will review how they are working six months later.
The CMA said it has worked with "a number" of supermarkets and Trading Standards to "ensure that shoppers can have more confidence they are getting a good deal" on their groceries.
It comes following a super-complaint from consumer group Which? last year, which raised concerns about supermarket pricing and promotional activity.
The CMA found that supermarkets "generally have a good awareness of consumer law" and took compliance "seriously."
The watchdog reported in July that supermarkets were misleading customers with confusing pricing promotions that could be against the law.
It uncovered "areas of poor practice that could confuse or mislead shoppers."
Today the CMA said it had since met with a number of supermarkets and expected them to review their pricing and promotional practices.
It added that it "had particular engagement with Asda in relation to specific areas of concern."
Under pressure from the discounters
Following pressure from the discounters, many grocers are moving away from promotional activity and focusing investment into everyday low prices.
The big four have all invested in narrowing the price differential to Aldi and Lidl, while Sainsbury's said it would axe the use of multi-buy promotions by the summer.
Asda boss Andy Clarke said: "We are consistently recognised as the UK's lowest price, full-range supermarket, offering prices that are at least 10% less than those of our rivals.
"All supermarkets were asked to review their pricing practices and make any necessary changes. The CMA has asked for a commitment from Asda on our promotional pricing rules and we were happy to provide this.
"It's important that customers know that the CMA did not make any findings against Asda and it hasn't questioned our commitment to every day low prices."
The CMA's executive director of enforcement Michael Grenfell said: "The CMA's examination of the market, following the super-complaint, found that supermarkets generally take compliance seriously, but there were some promotional practices that could mislead shoppers.
"We welcome the commitment we have received from Asda as well as the engagement from other supermarkets, and expect them all to ensure that their practices are not misleading and that shoppers are better informed and able to choose the products that most suit their needs."
CMA chief executive Alex Chisholm confirmed that the latest developments brought the follow-up work to the super-complaint "to an end" and said he was "pleased" that recommendations over key legislation had been taken forward.