Like many retailers, Asda's head office staff are sent into stores to help with the Christmas rush. Sara McCorquodale finds out what they learn.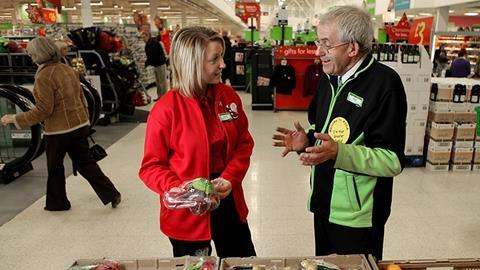 At Sheffield's Handsworth Asda, the Christmas season is in full swing. The store is decorated with a festive flourish, there are party season offers aplenty and employees sporting the grocer's celebratory red fleece pepper the aisles.
Meanwhile Asda retail people director Sarah Dickens is sitting in the staff canteen drinking tea ahead of her shift. As part of the retailer's Team Christmas initiative, she will be clocking in and out over the festive period and working on the shopfloor.
The programme, which provides 10,000 extra hours of manpower for Asda nationwide, involves head office staff leaving their suits at home and donning Asda's shopfloor garb. Seasonal staff will find themselves stacking shelves alongside directors and executives.
And for workers from the retailer's Asda House headquarters, it is an opportunity to see what is happening on the front line of retail.
"It's good to be here and talk to colleagues," says Dickens. "I like to find out what would make things better for them. In retail, you've got to understand what's going on in stores and have a relationship with the people working there every day.
"Being part of Team Christmas makes you realise how hard and physically demanding store jobs are," she observes. "They look a lot easier than they are and we have high expectations of colleagues."
Although Handsworth is not her nearest shop, Dickens chose to work at the 88,000 sq ft store because it is her "favourite". And the challenge of keeping its weekly 87,000 customers happy doesn't faze her.
"I love this store – it's the one I do my weekly shop in," she says. "My mum shops here too."
Making her way to the shopfloor, Dickens is keen to meet some of the store's employees before getting down to the business of stacking shelves in the wine aisle.
Every pair of hands will be needed from now until January, and with the Christmas grocery battle at fever pitch, the store will need to be right at the top of its game.
Festive buzz
Although it is mid-week, both floors of the supermarket are buzzing. Watching shoppers wander around the store, it's hard not to notice their full trolleys. It may be Thursday lunchtime but
very few are here to pick up a loaf of bread. Customers are snatching up £3 Christmas puddings and rolls of 14p wrapping paper. They are making the most of the three bottles of wine for £10 deal, and browsing the party dresses in George.
And it is not just pensioners and housewives populating the aisles. The shoppers cover a wide demographic including students, families and young women on their lunch break.
Dickens' first port of call is the store's greeter, Roger Tyzick. Responsible for creating a buzz around the grocer's promotions, the 63-year-old stands at the main entrance announcing each day's offers.
With a background in amateur operatics, Tyzick is the perfect employee for the role – a position that is not easy to fill, according to people service manager Rich Clamp.
Described by Dickens as "the first face of the store", Tyzick has worked for Asda for 23 years and always welcomes the arrival of Team Christmas.
"It's a mucking in process here, and having head office come down and help us out is great," he says. "We work as a team in this company. Everyone gets involved and to be honest we're very lucky. The atmosphere in stores is fantastic."
According to Tyzick, Team Christmas is representative of Asda's approach to work in general. "Colleagues, from here on the shopfloor to the head office, are lovely to work with," he says. "If you help people they try to help you, that's how we work."
Process worker June Dolman agrees and thinks the initiative breaks down any kind of head office versus shopfloor divide.
The 59-year-old says: "I think it's very good people are willing to come down and help out. It makes it seem less like 'us and them'. And it puts faces to names. When someone says Sarah is coming down to the store I can say: 'I was stacking shelves in the cereal aisle with her last year.'"
She adds: "At first you think you'll have to watch your Ps and Qs when head office come to work, but it's not like that at all. Everyone just gets on with it and I think it's good for them
to come down and see how things are in stores."
As part of her time on Team Christmas, Dickens likes to gather a number of employees together for a listening session. There she can find out how the season is progressing in-store before the festive rush hits its peak – and find out what she is letting herself in for.
Personnel worker Lorraine Booth has been with Asda for 19 years and despite the economic downturn she maintains nothing has changed from her point of view.
"We still have a lot of customers every day," the 49-year-old says.
"They come in for the offers and carry on coming back.
"In personnel we have had to do the same work this year but there's more of it. Right now we're getting letters
ready for our seasonal colleagues to let them know when they will be returning at Easter."
Service section leader Sarah Cassinelli is confident that Christmas on the checkout will go smoothly, thanks to the implementation of a new and very simple strategy.
Employees will be using lime green "space here" signs to indicate when one of the store's 29 checkouts becomes free. So far, says Cassinelli, the change has made the supermarket a calmer place.
"Before, we had to stand at one end of the checkouts and holler down like it was Sheffield market but this works so much better," says the 30-year-old. "It's amazing what a difference a little sign can make."
Seasoned pros
In addition to the benefits of the signs, there is a team of store stalwarts staffing the checkouts. Many of them have been working on the tills for more than 15 years.
"We're not quite as busy as we will be in the next couple of weeks but you can feel that Christmas buzz already," says Cassinelli. "The atmosphere in here is great – with colleagues and customers."
For Dolman, the festive period tends to mean a decrease in workload because prices change less frequently. But while customers continue to come through the doors there is always plenty to do.
"In process it is busy through the year and then slows down towards Christmas," she says. "The worst thing about this time of year is customers get used to products being in a certain place and then they get moved around.
"In saying that, if they ask we can just take them to whatever they're looking for. Customers love us and love how they're treated here. We go out of our way for them as much at Christmas as any other time of the year."
Warehouse worker Ted Harrison does not need to deal with the thousands of customers each week, but Christmas is just as stressful off the shopfloor for those managing stock, he says.
"It's very busy. We've got lots of stock to deal with and more coming in." He says it is "hectic but enjoyable" and things have been simplified in the warehouse, which has been expanded since last Christmas.
"We just need to make sure we get as much of the stock onto the shopfloor as possible. And keep those shelves full."
In the run-up to Christmas, the four employees admitted customers become more difficult to handle, but they are hoping this year will be calm.
Dolman says: "Availability is better this year than it was last, which makes things better for everyone
"Last year they were fighting over cream. I ended up having to go over and speak to a couple of customers at one point. It was crazy."
Cassinelli says staff can see customers are stressed before they even begin their Christmas shopping.
"You see them fighting over spaces outside in the car park," she says. "You just have to stand back and chuckle when you see that."
The quartet said they had noticed trends emerging this year that may be a result of the recession. Some customers started buying for Christmas as early as July. Special deals on alcohol have been the most popular, with shoppers buying in bulk and storing goods away for the festive season.
Dickens takes notes continuously through her chat, asking the employees what she can do to make life better for them and no doubt mentally warning herself to stay away from the dairy aisle.
The talk over, she makes her way to the wine section to start stacking shelves and get on with the shift ahead.
Customers continue to pour through the doors and not once during the day is the car park anything resembl-ing empty.
It is a scene that other retailers will want to see replicated in their stores, and there are encouraging signs. 42% of retailers expect a good Christmas this year, the British Retail Consortium found in its snapshot survey this month.
And while Christmas may mean long hours for retail staff and long queues to be served, Asda Handsworth store manager Marc Edwards says this is the most exhilarating time of the year.
"It's the days running up to Christmas that you feel lucky you work in retail," he explains. "You just feel that momentum building and people find that extra 10% to put in from somewhere."
With everyone doing their bit, it seems the retailer has all bases covered this Christmas. The atmosphere in-store is one of anticipation and camaraderie. In the staff room pictures of a recent employee lunch paper the walls, and festive music blares from the TV in the corner. The buzz of conversation is continuous and workers stop to say hello to Sarah as she takes a well-earned break.
"It's a nice place for people to work," she says. "We want to keep it that way and make it better if we can."