Asda moves away from Black Friday sales bonanza
Grocer will invest £26m in sustained price cuts on seasonal goods
Decision comes days after Retail Week revealed Asda was dialling down its involvement
Asda is "stepping away" from Black Friday to "focus on savings across the season" investing £26m to slash prices of seasonal goods.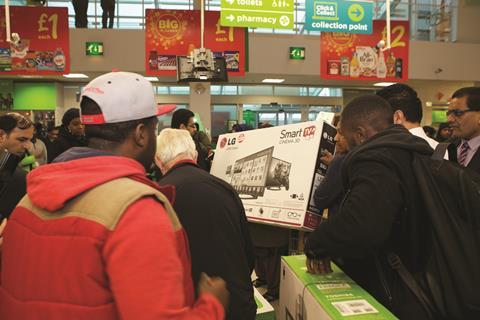 The supermarket giant said it made the decision because of "shopper fatigue setting in around flash sales" of non-essential and big-ticket items at Christmas.
The announcement comes just days after Retail Week revealed that the Walmart-owned grocery and general merchandise retailer was preparing to dial down its involvement in the sales promotion because of the disruptive effect on trading patterns during the golden quarter. Last year, the supermarket was caught up in negative media surrounding the event as shoppers were filmed fighting over heavily discounted flatscreen TVs in its stores.
Asda, which first participated in Black Friday in 2013, said customer feedback showed they do not like the "hustle and bustle" or "pressure" of one- and two-day sales.
This year customers will see a greater number of offers in store and online throughout November, December and into the new year. The £26m price investment has been put into promotional offers on toys and gifts, including the retailer's "biggest ever" three for £10 offer.
Asda added that investment would be made in core Christmas food and drink products including beef, salmon, wine, spirits and Champagne, as well as household goods such as games consoles and TVs.
Customers 'held hostage'
Asda boss Andy Clarke said: "The decision to step away from Black Friday is not about the event itself. Over the last two years we've developed an organised, well-executed plan but this year customers have told us loud and clear that they don't want to be held hostage to a day or two of sales.
"With an ever-changing retail landscape, now more than ever we must listen carefully to exactly what our shoppers want and be primed and ready to act the minute their needs change.
"When it comes to putting customers first Asda has always led the way, which is why we're just as confident in our decision to step away from Black Friday as we were in introducing it to the UK."
Kantar Retail senior vice-president and knowledge officer Bryan Roberts said: "Asda's move reflects British shoppers' desire for simplicity and clarity.
"Rather than limiting value to a limited period on non-essential items, the retailer's commitment to everyday low pricing on products that actually matter will be well received by shoppers who increasingly plan ahead for Christmas."
Retail ramifications
The decision by Asda – which along with etailer Amazon was central in generating a UK version of the US shopping extravaganza – is likely to prompt sighs of relief across the retail industry. It is expected that the decision will give a licence to other retailers to reduce the level of Black Friday discounting or perhaps not to take part at all.
The arrival of Black Friday in the UK was greeted with dismay by many retailers because of the expectations it created among shoppers of discounting ahead of Christmas.
The pattern of seasonal trading was heavily distorted last year by the rush for deals, with many retailers reporting that Black Friday pulled sales forward but did not generate extra revenue. Some websites collapsed under the strain of demand.
In the run up to this year's event, on November 27, industry chiefs have warned about the difficulties that accompany Black Friday. Last month, Home Retail boss John Walden said trading at Argos was "less predictable than usual" following last year's unusual Black Friday patterns, while John Lewis boss Andy Street said it was "not in the industry's interest to focus so much trade on to one day".