Asda boss Andy Clarke admits the grocer has reached its lowest ebb after reporting the worst quarterly sales slump in its 50-year history.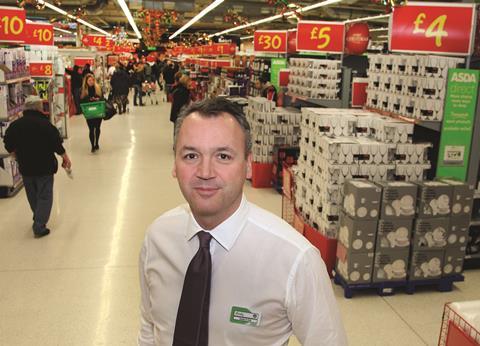 Andy Clarke says Asda has hit its "nadir"
Blames sales slump on heavy investment in price and vouchering across the sector
Asda will stick to its every day low price strategy
Clarke lauds "positive green shoots" during third quarter so far
Clarke said Asda had reached its "nadir" after like-for-like sales slumped 4.7% in the 11 weeks to June 30, following a period of "unprecedented change" in the grocery market.
But Clarke insisted the only way is up for the supermarket after seeing some "positive green shoots" so far in its third quarter.
He said: "The market is in incredibly challenging times. For all retailers, with the exception of the discounters, the market continues to be in decline.
"We are ahead of the curve. We've hit our nadir and we're on the upward curve now"

Andy Clarke, Asda
"From our perspective, we've certainly hit our nadir. Every business has got to have one – we've seen that over the course of the last two years that the nadir of other retailers has been quite substantial.
"We've led the way as we've gone through what has been a very challenging storm for the retail market, whether it's about the price investment, launching our strategy, going first with the reorganisation and restructure – we are ahead of the curve. We've hit our nadir and we're on the upward curve now.
"The investments we are putting in are working. As we go through the third quarter and forward into the final quarter of the year and into 2016, we can start to see the positive momentum that will come from the confidence we have with our parents in executing our strategy."
Vouchering in the market
Clarke blamed the nosedive in sales on a combination of its grocery rivals investing heavily in price and the presence of vouchering – a policy Asda has avoided as a key part of its strategy.
The grocer's big four rivals have engaged in a greater number of vouchering promotions over the past two years as they compete against the discounters. Asda's finance boss Alex Russo claimed Aldi and Lidl had been given "sufficient oxygen" to grow in the UK following Tesco's demise.
But under-pressure chief executive Clarke, who defiantly told journalists that he is "here to stay", reaffirmed that Asda – and its parent company Walmart – remain "committed" to its every day low price strategy.
"There is less activity than there was a year ago in vouchering, but there is a lot of vouchering still out there," Clarke said. "We have made a very conscious choice not to go into that way of promoting. We continue to put our investment into price rather than into vouchers.
"I think what's happening in other retailers, whether it's discounters or mainstream grocers, there is still vouchering activity in all of those formats, as well as price investment.
"That continued investment in pricing has made the landscape more promotional across the market. That, in our view, is a short-term position to drive traffic. We know that we could make a choice tomorrow to invest in a promotional pack on beer, sell a lot of beer, drive a lot of traffic and probably not sell anything else.
"But we are making a conscious choice not to enter that fray of short-term traffic-driving initiatives and have the vanity of a top line number without the sanity across the rest of the profit and loss. These are measured long-term choices."
Communication with customers
Clarke admitted Asda could have "moved faster" to change its strategy in a "volatile" market, but believes the supermarket giant is now well-placed to "accelerate" and bring sales back towards positive territory.
He said the customer response to the opening of two high street stores in Deptford and Wealdstone in a bid to boost sales had been "unbelievably positive".
Another key part of its strategy has been a change in the way it communicates with customers. Clarke believes shoppers have become "frustrated" by grocers "continuing to challenge each other on pricing" in their advertising.
Asda is now focusing on emphasising its "broader appeal", marketing the fact that it can offer George fashion and homewares, opticians and pharmacy services as well as food, all under one roof.
Clarke said: "It was time for us to change and it will be interesting to observe whether the rest of the sector moves and changes their communication vehicle. We've entered a new phase with our external communication and in our third-quarter numbers it's giving us confidence that this is resonating with the customer."