Tesco boss Philip Clarke has drawn the curtain on US business Fresh & Easy, part of his predecessor's legacy.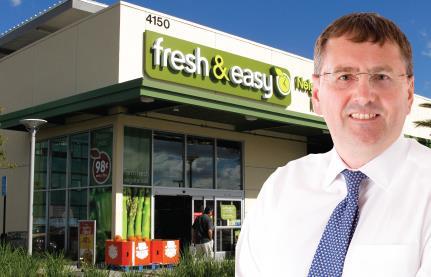 America calls itself the land of opportunity, but as everyone from pop stars to retailers knows, it is one of the most difficult markets to break into.
US consumers might speak the same language and have many similar tastes to UK consumers, but retailers jumping over the pond often find more problems there than in markets such as China or Thailand, which on paper are tougher nuts to crack.
Tesco has added itself to the long list of retailers unable to work magic in the US. Its venture, Fresh & Easy, was launched five years ago by former chief executive Sir Terry Leahy but last week the curtain was drawn by his successor, Philip Clarke.
Clarke said it is "likely" the grocer will pull out of the US after kick-starting a strategic review and parting ways with Tesco veteran and boss of the US chain Tim Mason. Fresh & Easy might have been the brainchild of his predecessor but Clarke is left picking up the pieces of an exit that could cost hundreds of millions of pounds for Tesco.
The City broadly welcomed news of the review, and most analysts pointed out that, while Clarke was on the board when Leahy stuck his pin in the California map, it was never his idea.
Some commentators have questioned why it took Clarke so long to make the decision. After taking up the top job he spent 18 months trying to make the business work, while at the same time attempting to turn around the fortunes of Tesco's domestic arm.
Clarke, speaking from Los Angeles last week where he was to deliver news of the review, said he had wanted time to try to make the business work.
"I came here [the US] 10 times over the past 18 months. We minimised costs and reduced losses – I don't think there was any more we could have done," said Clarke.
He added: "We can change the dial sometimes, and sometimes not."
Shore Capital analyst Clive Black has sympathy with Clarke for not immediately raising an axe to Fresh & Easy when he took over. He says Clarke "tried not to throw the baby out with the bathwater" in a bid to see if Fresh & Easy could deliver shareholder value.
"There were encouraging signs [at Fresh & Easy] last year," says Black. "But this year the momentum was not sustained."
In Tesco's third quarter, US like-for-likes dropped to growth of 1.8% from 6.9% in the second quarter.
What went wrong?
Much of the blame for Fresh & Easy's failure has been laid at the door of the recession, which many agree was a contributing factor but not the only problem.
Kantar Retail director of retail insights Bryan Roberts says Tesco suffered the "shockingly unlucky timing of launching a new business in some of the states worst affected by the financial crisis", but says there were also operational errors.
He points to store locations, marketing, range, packaging, checkout systems and lack of couponing as key reasons the business failed to work.
Black also says there were structural problems at Fresh & Easy. "The business was loaded with costs from day one," he says. "It is a subscale business that needed lots of stores. It was novel and interesting but not a business that could go mass market in America."
About £1bn has been invested into Fresh & Easy since its inception and it has sustained almost £850m of losses. Despite mothballing stores, halting capital expenditure to concentrate on making the existing shops work and cutting head office costs, the business was never going to make shareholder returns in "an appropriate timeframe", admitted Clarke.
Fresh & Easy was "an expensive distraction" that Clarke "somewhat reluctantly inherited", says Conlumino lead consultant Matt Piner.
Piner says Fresh & Easy's slow progression might not have been a problem if the UK and other international divisions were "still flying". He adds: "With growth elsewhere slowing, a tough decision needed to be made and ultimately the investment this frees up can have a bigger impact elsewhere."
The US accounts for just 1% of Tesco's sales yet it took up an enormous amount of Clarke's attention, going by the number of visits he paid to the US in the past 18 months.
The review, led by Tesco finance director Laurie McIlwee, will consider all options including a sale. Black says a sale will "soothe the pain" for Tesco. He explains the business employs about 5,000 people, has several hundred leases and a distribution centre, which might mean "there is no cheap and cheerful exit".
But with many stores still not making a profit, some see a sale of the whole business as unlikely. Roberts says what is more likely is a piecemeal sale of locations to the likes of Dollar General and Aldi.
Meanwhile, Tesco's domestic market is its powerhouse and, while Clarke has already set out his strategy to turn around its fortunes, it still needs a lot of attention.
Home improvements
The UK has started to show improvement in food. While overall UK like-for-likes in its third quarter fell 0.6%, food like-for-likes were up 1.2%. General merchandise suffered double-digit like-for-like declines however.
Oriel Securities analyst Jonathan Pritchard says "some of the medicine is working" regarding the core food business.
He says two key factors have contributed to improved fortunes – better product quality and higher staffing levels. He explains that both had been in decline in the past five years, but that Tesco has now relaunched and revamped 1,200 own-label products, recruited heavily and invested in several new training schemes.
Black says given the investment in the UK it would be worrying if it wasn't showing improvement but adds that the last quarter showed "demonstrable changes that are not revolutionary but are important".
General merchandise is in the doldrums though, but this is a problem other retailers are also facing.
Clarke says clothing has turned a corner and was up 3% like-for-like in the third quarter, but the rest of general merchandise, such as electricals and home entertainment, was lacking. "Clothing was the first area where we gave attention and we are now seeing the results," says Clarke. "We will now work on the rest."
Black says Clarke is "very methodic" and is "only around 25% through" the UK turnaround. The Tesco boss is well aware of the challenge ahead, saying "it is early days and there is still a lot more to do".
Piner says clothing, nursery and home are areas Tesco is confident it can use its own-label brands and value credentials to deliver sales, but is pulling back from once lucrative areas such as electronics and home entertainment where "the growth of the internet and fierce competition is making it harder to stand out". He says: "Whereas the difficulty was once trying to fit as much product as possible into stores and watching it grow, in the present environment it's about making difficult decisions over what categories still offer potential."
The right team for the job
Some have questioned whether Clarke has the right people around him to turn around the UK and keep pushing global growth.
Mason's exit follows that of other former Tesco veterans such as former UK boss Richard Brasher.
And as corporate affairs and legal director Lucy Neville-Rolfe steps down next month, it leaves just McIlwee as the last man standing from Leahy's executive team. Compared with the other board members, McIlwee was a relative newcomer to Tesco, having joined in 2000.
Mason, a 30-year veteran, was not only the US boss, he was deputy chief executive and chief marketing officer. Clarke says Mason was "not the right person to lead the review" of Fresh & Easy and he wanted "a fresh pair of eyes".
Black says the loss of the extent of experience in Leahy's executive team is a blow to the business, but Clarke has a lot of talent around him and has very obviously built his own team now.
"Mason has a brilliant mind and is very creative but Clarke clearly wants a team that is right for him," says Black.
Clarke has made a series of tough decisions since taking over, with the US review following a Japanese retreat and also the move to halt its hypermarket expansion in the UK.
Tesco is a business that needs strong leadership and Clarke has certainly proved adept at taking difficult decisions. But it is the outcome of this Christmas and the next 12 months that will reveal whether those decisions were the right ones for Tesco.
Cracking the us market
Why is the US so tough to crack?
Because it is well developed and the US market is well served with advanced retail chains. In Tesco's case it was not just up against Walmart but also Trader Joe's and SuperValu, meaning fighting for market share became just as tough as in the hard-fought UK market. Conlumino managing director Neil Saunders says: "The US already has many great retailers who are knowledgeable and customer-centric. You have to run twice as fast just to keep up with the competition."
Which UK retailers have taken a stab at the US?
A number of UK grocers including Sainsbury's, Marks & Spencer and now Tesco have launched failed attempts to crack the US retail market, which US financial services company Standard & Poor's estimates is worth $540bn (£335.82bn). HMV, Dixons, WHSmith and Laura Ashley have also expanded into the US before retreating.
Why have they failed?
Sainsbury's problems in its domestic business forced it to sell its Shaw's chain in 2004 as the grocer looked to focus time and resources on its core market. Tesco too might have been afforded a little more time by investors and Philip Clarke if the UK business had not been in difficulty.
M&S pulled out of fashion retailer Brooks Brothers in 2001 and then from its other investment in upmarket Kings Super Markets in 2006. "M&S's investment in Brooks Brothers was always a bit of a vanity acquisition, they did not understand the heritage of the brand," says Saunders.
Laura Ashley's classic old English style was expected to have appealed to Americans but it failed to catch shoppers' imaginations, while WHSmith sold its US airport and hotel stores after the economy slowed following the 9/11 terrorist attacks in 2001.
Is there still potential in the US?
Sir Philip Green clearly believes so. The billionaire tycoon's sale of 25% of his Topshop and Topman businesses last week to US private equity firm Leonard Green & Partners – which counts J Crew among its investments – allowed the business to become debt free and gives the brands the local expertise to expand in the US with considerable intent. Ted Baker, Karen Millen and Hotel Chocolat are just a few of the other UK retailers to set up successful US operations.
Alex lawson