Changes in shoppers' behaviour means retailers are looking to grab a larger slice of the growing online grocery market.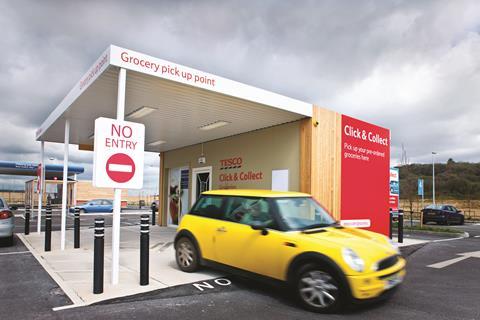 Competition in the online grocery market has never been fiercer. With most of the major grocers enjoying more than 20% annual growth, they have ignited a battle to win shoppers through promotions, improvements in service and developing new technology.
The IGD predicts online grocery will be worth £11.1bn by 2017, almost double its current £5.6bn worth, as consumers opt for the convenience of not visiting a store. Factors driving growth include a reduction in the number of substitute products, money-off promotions, tighter and more available delivery slots as well as strong service.
Moreover, the development of apps and optimised sites to make mobile shopping more convenient, and online baskets that remember your core favourites to suit the time-pressed shopper, have also aided growth.
"Shoppers are being impacted by rising fuel prices, restricted incomes and tend to be time poor, driving them towards online grocery shopping rather than visiting their local supermarket or hypermarket," says Andrew Stevens, senior analyst at research firm Verdict. "Online shopping allows consumers to browse through broad product ranges, easily comparing product attributes and prices from the comfort of their own home, office or when on the move using a mobile phone or tablet. This makes it far easier to stick to a budget."
It is this potential growth that has tempted frozen food retailer Iceland back into a market it withdrew from in 2005 amid a company turnaround, and Morrisons to strike a sensational 25-year partnership with etailer Ocado last month.
The dealmakers
Ocado chief executive Tim Steiner believed the £216m deal was validation for the Ocado model but it could easily be viewed as a stamp of approval for the entire online grocery channel.
Questions have been asked about the profitability of online grocery, which provides considerable costs for retailers picking large volumes of low margin, multi-temperature goods and then delivering the orders. The model is in stark contrast to the traditional grocery shop whereby the shopper visits the store paying for their own petrol and loads the trolley themselves using their own labour cost. PayPal sales director Mike Davies says: "Finding the most cost-effective way of fulfilling orders is crucial - even more so than in store, given that the in-store consumer does the labour intensive bit of stock selection and delivery."
Morrisons chief executive Dalton Philips is clear that his online grocery operation has to be profitable. He has set a positive EBITDA target of 2016/2017 and questioned the profitability of his rivals' operations owing to their models.
Asda, Sainsbury's and Tesco pick their orders from store and, in the latter's case, some dark stores in London. They then deliver locally from there or allow shoppers to collect in store. Morrisons has opted for Ocado's centralised model - packing orders in a warehouse, and using local 'spokes' to deliver in smaller vans to shoppers' homes. At last month's annual BRC lecture, Steiner claimed that the major grocers' tactics for online have been a "defensive strategy", merely entering the market to keep up with his business and prevent rivals' stealing shoppers who move online.
Whether Ocado was really the motivation for the build up of Tesco, Sainsbury's and Asda's operations is debatable.
But questions hang over whether the channel cannibalises purchases that would have been made in store, or attracts new shoppers who weren't able to purchase from their preferred retailer online. Stevens says: "There is no doubt that cannibalisation will be the main source of growth online, with more people switching from in-store only shopping to a combination of in store and online.
"For the retailers this is a plus. It gives them far greater reach, enabling them to enter previously underserved regions.
For consumers, this results in far greater choice."
The shift towards online grocery is also having a considerable effect on the future of retailers' store estates. Tesco, Asda and Waitrose are among those to have introduced drive-thru click-and-collect services at store car parks to pick up online orders. Meanwhile, the end of grocery's rapid space race for out-of-town stores was, in part, hastened by the increasing importance of online.
The effect of online growth on staffing has been of note. The addition of new staff in dark stores has also been supported by existing staff picking orders in store as a new channel creates new jobs and positions. Moreover, retailers including Waitrose have been forced to review and restructure their operations to adjust to the new environment of online to support both stores and online simultaneously.
AdMore Recruitment senior partner Jeremy Ellerd-Styles says new, specialised positions are being created at head offices in logistics, marketing and merchandising. "Some of these roles will be filled by store staff but generally this will be at entry level only," he says. "The biggest impact will be on the distribution of talent as it's likely that the aforementioned functions will be prioritised over more traditional career paths."
Getting ahead
Philips has claimed that Morrisons will benefit from "second mover advantages" in entering online grocery, having surveyed the plus points and pitfalls of a complex market. However, if Morrisons is to make up for lost ground, it will do so against some formidable rivals. Tesco is the market leader, recording a market share of 31.1%, according to Verdict, with a turnover of £2.3bn, ahead of Sainsbury's and Asda, which both have businesses estimated at more than £1bn annually.
A multichannel model has proved key to growth. In addition to click-and-collect options, small-scale trials of scan-and-shop apps at Asda and Sainsbury's have also allowed retailers to explore shopping online in store, allowing retailers to cut queues and reduce labour costs.
Stevens believes that Tesco is best placed to take advantage of the boom in online. He says: "Being one of the early movers in the sector it has considerable market knowledge. This, twinned with its vast store network makes it one of the more successful online grocers. However, those who innovate in order to please their shoppers will also make considerable gains, with the likes of Asda pushing click-and-collect and drive-thru groceries in order to make life easier for consumers."
Steiner argues though that a store network does not put a retailer at an advantage when it comes to collecting online orders, as this can be done via small lockers and does not require a 50,000 sq ft store. However, with click-and-collect continuing to prove popular for shoppers not confident a delivery will arrive when they're in, few retailers are likely to shun the option including Ocado's new partner, Morrisons.
Steiner also believes that narrow and convenient delivery slots will be a key battleground in online grocery, replacing the traditional ethos that location is everything in winning shopper spend. Davies agrees: "At key times like Christmas, giving a regular customer a prime, priority slot for delivery could ensure their loyalty," he says.
Ultimately, the winners in online grocery may be those who offer a timely, reliable and consistent service free of substitute products or errant deliveries.
Buying food online is still a very small part of the UK grocery sector, despite the column inches it generates. People still like to inspect the fresh food, read the packets for contents and enjoy the theatre of a shop. However, convenience is king in modern grocery. The ability to purchase a large ambient shop online every week,supplemented by nipping to the corner shop for milk and fresh produce, is increasingly becoming the blueprint for the next generation of shoppers. Consumers may like their baked beans in pretty pyramids, but their shop of the future could be more pixels on a tablet than tins in a store.