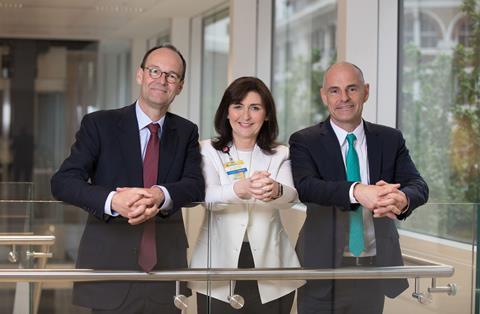 Britain's second- and third-largest supermarket chains were joining forces to create what Coupe called "a dynamic new player" in UK retail – a player that would be able to slash the price of key grocery staples by 10% and improve returns for shareholders.
"A great deal for everyone" – customers, staff, suppliers and shareholders – was how Coupe pitched the landmark merger to the City.
But today, two months before it is due to reveal its final verdict on the deal, the Competition and Markets Authority (CMA) has spoiled the party before it had even begun.
The watchdog's provisional findings on the tie-up following its phase two investigation have sent shockwaves through UK retail from London to Leeds – and they are reverberating across the pond in Bentonville, Arkansas, too.
The CMA has taken a much harsher stance than many analysts – or Sainsbury's and Asda – had expected.
Indeed, one supplier tells Retail Week representatives from the two grocers had spoken at recent IGD events in a manner so confident as to suggest the merger was "already a done deal".
Instead, the watchdog today highlighted 629 locations where there could be a "substantial lessening of competition" – far more than the 463 identified during its phase one probe.
It said the deal "could lead to a worse experience for in-store and online shoppers across the UK through higher prices, a poorer shopping experience, and reductions in the range and quality of products offered" – a stark contrast to the 10% price cuts Sainsbury's and Asda had promised.
Damningly, the CMA concluded it would be "difficult for the companies to address the concerns it had identified".
Moving goalposts
While that represents a hammer blow to Sainsbury's and Asda's collective hopes of pushing the deal through, it is not necessarily a fatal one.
A key question for the CMA in investigating any merger or acquisition is whether the link-up would allow the enlarged company to increase prices. To assess that, the watchdog uses the Gross Upward Pricing Pressure Index (GUPPI) to quantify the incentive a merged entity would have to put up prices. The lower the GUPPI, the less the concern.
Typically, a GUPPI below 5% is seen as unproblematic. In its Tesco-Booker probe, the CMA waved through numerous locations with a GUPPI below 5%. In the Sainsbury's-Asda case, however, the body has been much stricter, implementing a 1.5% GUPPI threshold. Locations with a GUPPI higher than that have been identified as areas where there is a competition risk.
"The CMA has fundamentally moved the goalposts, changed the shape of the ball and chosen a different playing field"

Mike Coupe, Sainsbury's
Sainsbury's and Asda also believe that the CMA has failed to recognise the extent to which Aldi and Lidl now compete with the big four in a fiercely competitive UK grocery sector.
On that basis, it is perhaps easy to see why an emotionally charged Coupe raged on Today that the CMA had "fundamentally moved the goalposts, changed the shape of the ball and chosen a different playing field" in its latest probe.
Coupe is adamant Sainsbury's will "fight right the way through the process" – and the grocer could yet launch a legal challenge to the CMA's findings.
Bernstein analyst Vincent Lee believes Sainsbury's would have a strong case because of "questions over the methodology" employed by the CMA and "changes in the criteria" used in comparison to the Tesco-Booker investigation.
Lee says: "These are provisional findings – the final report isn't out until April. Sainsbury's will no doubt argue with the CMA about the lens through which they have looked at the substantial lessening of competition. If they can't get any movement internally, they will take that to a judicial review, so I don't think this is over quite yet."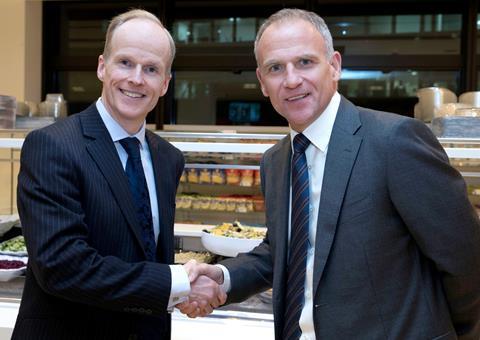 Others, however, are not so confident that the merger can be resurrected in the aftermath of today's scathing report.
Clive Black, head of research at Morrisons' house broker Shore Capital, insists it is "totally erroneous" of Sainsbury's to suggest the CMA has "moved the goalposts". He argues that the Tesco-Booker combination was "a totally different deal" involving a retailer and a wholesaler, rather than two giants that operate in exactly the same marketplace.
"With Tesco-Booker, we were talking about perhaps the disposal of something like the One Stop business," Black explains. "We were not talking about 300 supermarkets that do the same thing on a mass market scale across the UK."
One former grocery retail board member adds: "I don't see how Sainsbury's is going to find a solution that is workable. Even if Sainsbury's said we'll wrap up a parcel of stores and sell the Asda name with those to another buyer, there are lots of risks in trying to get that done. The likelihood of them finding a buyer who would do that, and be credible to the CMA, I think would be quite low."
With both of those sizeable obstacles in mind, a source from a grocery rival suggests the Sainsbury's-Asda merger now resembles "a barely twitching corpse".
What next for Sainsbury's?
It is a morbid analogy, but one that was seemingly echoed in the market. Sainsbury's share price has crashed more than 16% to 242p since the CMA revealed its provisional findings.
The slump has left Coupe's now infamous off-air rendition of We're in the Money last April looking increasingly misjudged and, frankly, foolish.
But where does today's twist leave Coupe and Sainsbury's in the longer term? What is next for the Sainsbury's business if it does not merge with Asda? And is Coupe, having staked his reputation on the merger, the right man to lead the business without it?
"Sainsbury's desperately needed this deal and if the deal does die, it will mean a refreshed view of Sainsbury's, which doesn't feel particularly encouraging," Black argues. "It is losing market share, it is experiencing negative like-for-like sales, and the Argos synergies have more or less been harvested already, so Sainsbury's feels like a very vulnerable business from an investment appetite perspective."
Lee echoes those sentiments. "Sainsbury's needs this deal a lot more than Asda," he says. "If you follow Kantar figures, Sainsbury's, out of the big four supermarkets, has been the weakest.
"One of the things that has impressed us about Sainsbury's over the past five years is that it hasn't suffered anywhere near the same sort of margin reset as its competitors. Do they need to reset their margins now? That is a worrying thought. Do they need to make more price investment? Yes, we think so, but how can they afford that without synergies from the Asda merger?
"As a standalone business, there is a lot to be worried about for Sainsbury's at the moment."
"Sainsbury's needs to have a fundamental restructure of the business"

Richard Lim, Retail Economics
Retail Economics chief executive Richard Lim also believes Sainsbury's operating without Asda would need to undergo radical change in order to turn the corner.
"Sainsbury's needs to have a fundamental restructure of the business," Lim says. "That will likely involve working with fewer suppliers, having fewer SKUs, focusing more on own-brand where you have bigger margins and better control over supply chains. That will need a forensic look at the business to re-engineer the cost structure."
One ex-grocery boss suggests the changes could have even more seismic ramifications for the business, and questions whether the broader Sainsbury's group – which includes Argos, Habitat, Nectar and Sainsbury's Bank – could be broken up if the merger does not go ahead.
"If they lose out on this deal, where is the business going to go?" he asks. "Mike Coupe is wedded to the deal, the business is in decline, it's too expensive for most people to buy. Could it get broken up? Maybe. Could someone like Amazon swoop in and buy it? The plan B is much harder to come up with for Sainsbury's than it is for Asda at the moment."
Can Coupe survive?
Whatever the future holds should the deal fall flat, the make-up of the senior Sainsbury's team attempting to take it forward could be markedly different. Black believes those currently at the helm would have plenty of questions to answer.
"The Sainsbury's board is in a very difficult position because the CMA has basically eviscerated the investment thesis put forward behind this merger," he says. "You have to ask if there was unanimity in the Sainsbury's board and, if so, why? You have to ask if it reflects a degree of naivety, over-ambition and arrogance, which has proved to be hugely expensive and misplaced."
"The Sainsbury's leadership team has been distracted for some time on this deal and that has been reflected in sales performance"

Former grocery executive
Another former supermarket executive believes Coupe – and a few other members of the executive team – will depart 33 Holborn if the merger does not go through, paving the way for some fresh thinking to lead a turnaround strategy.
"It's a massive blow for Mike," he says of the CMA's findings, "but he knew he was taking a high-risk approach. If you look at the Sainsbury's leadership team more broadly, it's quite static and needs re-energising.
"If the deal doesn't go through, they are going to have to move quite quickly to re-energise the business because, inevitably, the leadership team has been distracted for some time on this deal and that has been reflected in sales performance.
"If you are the chair of Sainsbury's, you will be looking at the situation right now saying: 'Everyone's been distracted, how do we get back on track?'"
Woe for Walmart
The irony amid the anarchy, from an Asda perspective, is that it has quietly been doing precisely that – getting back on track. Only yesterday, owner Walmart revealed that Asda had clocked up its seventh consecutive quarter of sales growth as like for likes increased 1% during the 13 weeks to December 31.
Asda boss Roger Burnley appeared to appeal to the CMA, when he said that retailers "have to be prepared to innovate and challenge the status quo if they want to continue to remain relevant and deliver for their customers".
Now that the competition authorities seem to have given those words short shrift, Walmart is left facing into the prospect of going back to the drawing board.
The US giant is yet to comment on the CMA's findings, or what they mean for the deal from its perspective – though Asda issued a joint statement with Sainsbury's. That stance has left question marks hanging over Asda's Leeds headquarters – where the mood today is said to have been "beyond sombre".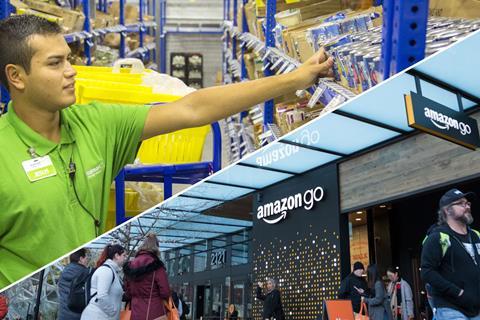 "Walmart clearly want out of the UK and my guess is that there would be people like Amazon who would be interested in buying Asda's position in the UK," the ex-grocery retail board member suggests. "If Amazon wants a physical retail footprint for grocery in the UK, and Walmart is a distressed seller, then that might suit them."
But with Amazon's immediate focus in the UK seemingly on smaller units to roll out its cashless Go convenience format, would it really want to take on hundreds of over-spaced grocery stores?
Black believes Walmart has three options on the table: a merger with "another party"; finding a private equity consortium to sell Asda to; or taking Asda public with an IPO.
"Sainsbury's-Asda was always going to be a big roll of the dice," on industry insider concludes.
Today, it looks as though Coupe, Burnley and McKenna's great grocery gamble has dramatically backfired.
Retail Week Live 2019
Walmart International boss Judith McKenna is the opening keynote speaker at Retail Week Live on March 27, at London's InterContinental O2 hotel.
To check out the packed programme, and book your tickets, click here.
Analysis: Is a Sainsbury's-Asda deal dead in the water?
1

Currently reading

Analysis: Is a Sainsbury's-Asda deal dead in the water?

2

3