Data reveals 10% of Tesco customer base accounted for 30% of sales volumes in March
Boss Dave Lewis says "there is simply not enough market capacity to meet the new demand" for online grocery
Cost base predicted to grow between £650m and £925m depending on when UK "returns to normal"

Grocer has recruited 45,000 new workers since March 20 and put no staff on furlough scheme
Britain's biggest grocer has been at the forefront of retail's reaction to the pandemic, drafting in tens of thousands of new workers, ramping up its online delivery capacity, making quicker payments to its smaller suppliers and fundamentally changing how its stores operate as part of its drive to feed the nation.
As restaurants, pubs and coffee shops closed their doors last month, and shoppers flocked to stock up on products such as toilet paper, eggs, pasta and tinned goods, the conclusion from some observers was that Tesco and its food retail rivals were in for a healthy payday.
But how has the coronavirus crisis really impacted Tesco? And what does that tell us about the rest of the grocery industry, with Sainsbury's and the Co-op both due to update the market before the month is out.
Surging sales
Industry data from Kantar suggested grocery sales surged 20% in the UK during the four weeks to March 22 – and Tesco was one of the main beneficiaries of what boss Dave Lewis describes as "panic buying" during that period.
The retailer's sales surged 30% during early to mid-March – the first few weeks of its current financial year – as shoppers stockpiled.
Data from Dunnhumby, the company that created Tesco's Clubcard loyalty scheme, reveals 10% of the grocer's customer base accounted for 30% of all sales volumes during March. Just under a third of its customer pool was responsible for 60% of sales volumes during the same period.
Sales growth was strongest in London, where revenues jumped 28% during weeks two and three of Tesco's fiscal year. Sales were up 26% in the North East and North West, and 24% in the East, South East, Yorkshire, Wales and Scotland during that same fortnight.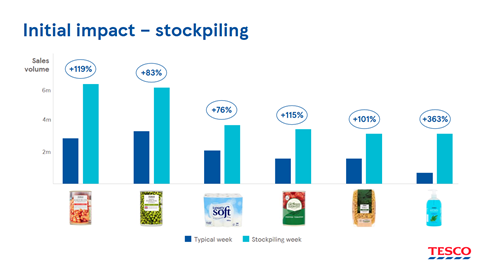 In its peak week, Tesco sold almost 6 million cans of baked beans (up 119% compared with a normal week in March), 3.3 million cans of chopped tomatoes (115% more than usual) and 3.1 million bottles of liquid soap (compared with around 670,000 usually).
But Lewis points out that "the picture is more nuanced when you look at our overall sales mix".
Although food volumes were up during March, he says there were "very significant reductions" in sales of general merchandise, clothing and fuel, which contribute healthier margins. The latter two categories have been down 70% during the last few weeks, Lewis says.
Foodservice sales in its Booker wholesale business have also plummeted 60% as a result of catering businesses temporarily ceasing trading during the lockdown.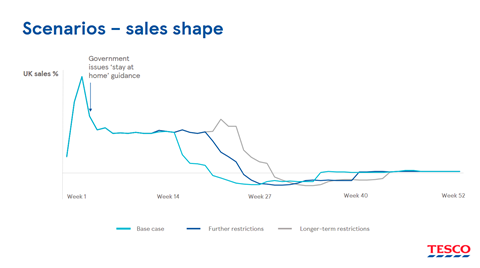 Lewis says grocery sales also "began to tail off" and return to more normal levels as the UK moved into lockdown – and could slip into negative territory year on year during the summer and beyond.
Online demand
Tesco has experienced what it describes as "significant pressure" on its online business over recent weeks, as an increasing number of customers switch to ecommerce during the lockdown.
Despite concerted efforts to hire more drivers and increase the number of home delivery slots available, Lewis admits: "There is simply not enough market capacity to meet the new demand."
The grocer has added 145,000 new online delivery slots in the last two weeks alone, taking its overall capacity to 805,000 home deliveries every week – the equivalent of two per second during operating hours – with plans in place to ramp that up even further.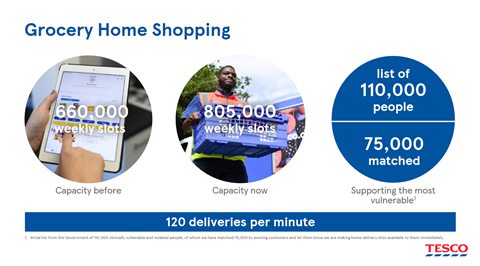 But it is not just the lack of delivery windows Tesco has had to contend with as it strives to serve those customers.
"When the crisis hit, because of the demand, the amount that people wanted in each order increased significantly, too," Lewis explains. "That, plus the number of people in store, meant we could pick [fewer orders] and the capacity initially went down below 600,000 as a result."
Since then, Lewis says the increase in capacity "has meant we have recruited new colleagues to pick and new colleagues to drive additional vans". "At some stores, we now start the picking for Tesco.com at 2am in order that we finish that pick before we open the store at 8am."
Lewis did not make any predictions about how shopping habits could change in the longer term in the wake of the coronavirus crisis, but Tesco is ensuring it has the added capacity to deal with a growing ecommerce market should more and more consumers switch to buying their groceries online.
Ballooning cost base
In order to service the sales gains in food that Tesco is enjoying through both its physical and online operations, the grocer's cost base is ballooning. As a result, top-line growth may not filter through to an increase in profitability at all in 2020/21. Early suggestions are that retail profits will be flat year on year when Tesco reports its next preliminary results in 12 months' time.
Tesco maps out three scenarios based on three different timeframes, which assume that the UK will "return to normal" at the end of July, August or September. Under those scenarios, the retailer's cost base will swell between £650m and £925m as a result of increases in payroll, distribution and store expenses.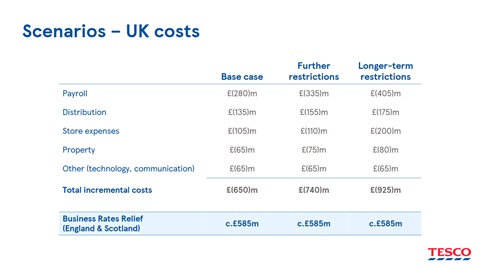 Lewis admits: "We don't know which one of those it is, but at the moment we are planning the finances of the businesses on the August scenario."
In that eventuality, Tesco says the benefits of food volume increases, a £585m business rates holiday and "prudent operations management" would only be enough to "largely offset" the additional costs it is incurring.
Tesco has not put anyone on the government's furlough scheme, but has rewarded all frontline staff with a 10% bonus and is giving full pay to 50,000 absent workers. On top of that, it has recruited 45,000 new employees since March 20.
Store expenses have also surged as Tesco invested in new signage, social distancing measures and plastic screens on each of its checkouts.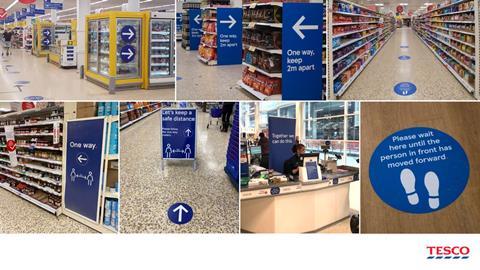 Despite having to take on those costs, Tesco has been criticised in some quarters for accepting the government's business rate relief.
But Lewis says: "There's a £585m business rates relief coming to Tesco. In our longer-term scenario that would be around half of the additional costs that we can see. We appreciate the support from the government – it allows us to make the right decisions all the time in order that we keep customers and colleagues safe, and we keep providing the food that the nation needs.
"It's important to think about some of the very significant additional costs that the UK food industry is having to take at the moment.
"Every pound we receive in rates relief will be invested in ensuring that Tesco is able to support Britain's shoppers through this crisis period."
Dividend dilemma

As it faces into such testing times, Tesco was criticised by some quarters today for electing to pay a dividend to shareholders.
A host of retailers, including supermarket rival Morrisons and high street operators from WHSmith to Joules, are scrapping or postponing returns to investors as they cope with the challenges posed by coronavirus.
But Tesco's board approved a final dividend of 6.5p per share, at a £635m cost to the business – controversial, to say the least, at a time when the taxpayer is effectively footing the bill for its £585m business rates holiday.
Lewis, however, defends the dividend and insists it reflects Tesco's success in 2019/20 – the financial year that ended on February 29, before coronavirus took hold in the UK.
"Every business and every sector are different, with different financial dynamics. Therefore, the dividend decision is different for each company, too," he says.
"Tesco is declaring its dividend for last year's performance. In 2019, our turnaround was complete, and our financial performance last year allowed us to finally pay out to those who have supported us on that journey – during which time dividends were either not paid or significantly reduced.
"We now have a strong balance sheet and excellent liquidity – we do not need the capital going forward and our cash generation is robust."
Lewis says Tesco also "thought long and hard about our responsibilities" to individual shareholders and people paying into pensions and ISAs, for whom dividends are "vital for workers and their families".
"Whilst we appreciate that this sadly may not be the case for a number of sectors or industries where there may not be any choice but to suspend dividends and preserve cash, we are in a strong position to pay out for the benefit of those people."
The fact Tesco can afford to do that at a time when others cannot is testament to the work Lewis has done to ensure Tesco thrives during coronavirus and beyond.