Tesco and Morrisons are both battling to turn themselves around in the face of an extraordinary structural shift in grocery.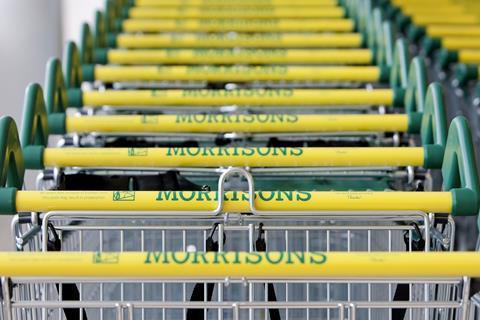 Both have profit warnings coming out of their ears after losing ground to the discounters. And both face intense scrutiny of their strategies and their management.
Moody's has ranked the two grocers on a series of metrics, and judged that Morrisons has come out top because of its more attractive – or less unattractive? – store estate and turnaround plan. Tesco is slightly hampered in the latter metric perhaps given newish boss Dave Lewis is yet to unveil his strategy.
Here are some of Moody's key pull-outs.
Morrisons' store estate is less bad
Moody's senior analyst Sven Reinke reasons that Tesco has a "much higher exposure to the troubled large, out-of-town hypermarket stores of more than 50,000 square feet than Morrison".
Despite Tesco boasting strong online and convenience businesses, Reinke argues they are counterbalanced by the "pain" it is feeling from its large store estate – 56% of stores are larger than 50,000 sq ft. Nine out of 10 of Morrisons' stores are smaller than 40,000 sq ft.
Tesco's lease obligations total £11.3bn, according to Moody's, which is equivalent to 46% of Tesco's adjusted debt at the end of 2013/14. Morrison's lease obligations are "relatively low" at £862m.
Morrisons' turnaround strategy is more palatable
Morrisons has been more agile than Tesco, states Reinka. He believes the Bradford-based grocer has taken more "decisive action" to tackle the threat of Aldi and Lidl. Morrisons has for instance unveiled plans to invest £1bn in price cuts in the next three years.
"There are some early encouraging signs that Morrisons is on the right track," says Reinka, who cites Kantar data showing Morrisons' like-for-like decline has slowed.
In contrast, Tesco has invested £200m into cutting prices this year. "We believe more holistic and decisive action is needed to address quality perception and prices," says Reinka.
Morrisons also wins on generating free cash flow, he adds.
However… Tesco crawls past Morrisons on 'business position'
Reinka gives Tesco some credit on its business position. Tesco, unlike Morrisons, is a diversified, multinational business. It has market-leading positions in a number of countries.
Additionally Tesco is the clear market leader at home too, and its presence in online and convenience is far ahead that of Morrisons.
Tesco operates 2,600 convenience shops to Morrisons' 119.
When it comes to online, Tesco leaves Morrisons in the shade. Around 7% – £3bn – of Tesco's UK sales were made online in 2013/14, compared with less than 0.5% at Morrisons, which only launched its ecomm site in January.