The online retailer is understood to have started looking for shop space in central London
Amazon opened its first Amazon Go store in Seattle last year
The online retailer registered a UK trademark for Amazon Go stores in December
Amazon is on the look-out for bricks-and-mortar space in London to open its automated pay-enabled Amazon Go store format.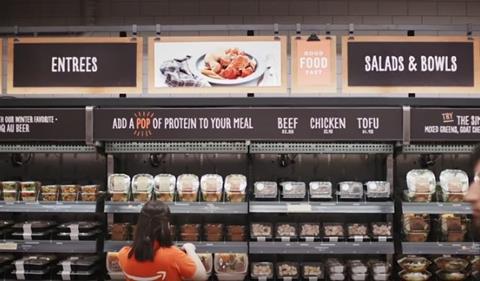 The etail giant is ramping up efforts to secure prime central London locations to open its innovative convenience store proposition.
The online retailer, which registered a UK trademark for Amazon Go stores in December, has one Go store in Seattle.
The outlet, which is currently only open to the online retailer's employees, allows shoppers to pick up items and leave the store without queuing at a check-out to pay.
In-store sensors link to the shopper's corresponding mobile app to automatically charge them for items they have left the store with.
Retail Week understands that the etail Goliath has approached a number of commercial property agencies for advice on securing stores, although it is yet to formally appoint anyone to carry out the work.
Even if it does press ahead with plans to bring Amazon Go to the UK, sources said it would be at least two years before its first store opens for business.
Amazon declined to comment on the story.
The potential move by the online giant to open bricks-and-mortar stores without the labour costs associated with shop floor staff would pile more pressure on the big four grocers.
Conlumino managing director Neil Saunders warned that the model could allow Amazon to undercut the big four on price and steal market share.
He told Retail Week: "The biggest threat, if this works well, is that it gives Amazon a major advantage on the cost side of the equation. It strips out a massive amount of cost in terms of labour from stores.
"One of the effects could be that it can charge consumers less through lower prices, so that is a very real, longer term threat to the grocers."
The US business has already launched an assault on the UK grocery market after bringing its Amazon Fresh online grocery offer across the pond last June.