Amazon has agreed a 10-year lease on former Tesco warehouse in a signal that the etailer is gearing up to launch its grocery operation in the UK.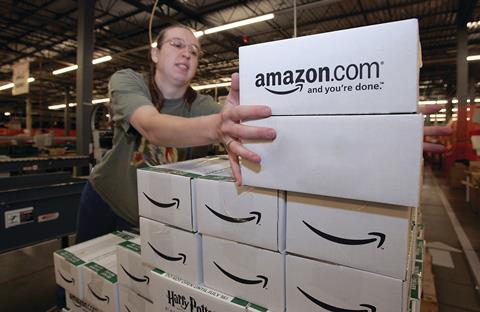 Amazon has agreed to lease a former Tesco warehouse in Surrey
Retail Week understands it is currently being revamped by Clegg Food Projects
Amazon has also leased a building in Bardon, Leicestershire
Etailer is yet to comment on rumours it is poised to launch Amazon Fresh in the UK
The US online retailer, which already offers the Amazon Fresh food operation in its homeland, has long been linked to a move to expand its grocery proposition into Britain.
But in the clearest indication yet that it is poised to launch the service in the UK, Amazon has penned a deal with logistics facilities owner Logicor to take on its 304,751 sq ft Logic305 warehouse in Weybridge, Surrey. That is similar in size to online grocer Ocado's first warehouse in Hatfield, which measures 300,000 sq ft.
The Weybridge premises – which already has some food-handling facilities such as chiller cabinets – has been unoccupied for a several months after supermarket giant Tesco vacated it at the end of 2014.
That means the building is already set up for handling and distributing groceries, but Retail Week has learned that Clegg Food Projects, which creates processing and distribution facilities for the food and drink industry across the globe, has been appointed to revamp the warehouse ahead of Amazon's impending arrival.
Its lease will start in September, once the refurbishments have been completed.
The building is one of two new warehouses Amazon has agreed to lease from Logicor, having also secured a second premises in Bardon, Leicestershire, measuring 257,855 sq ft. It is understood that this site did not previously distribute food, but does have planning permission to be used for grocery distribution.
Retail Week approached Amazon for comment but it is yet to respond. Logicor refused to comment when asked if Amazon would be using the premises to distribute food.
UK reach
Reports had linked Amazon with a London launch of its grocery service, with a view to a wider roll-out. But the two leases suggest that the etailer is already preparing to offer its Fresh proposition more widely across the country.
Logicor's managing director Charlie Howard said both sites "provide excellent strategic access to a high proportion of the UK population."
The Weybridge warehouse is on the Brooklands Industrial Estate, close to junctions 10 and 11 of the M25 and 15 minutes from Heathrow Airport.
The Bardon warehouse, GT257, is part of Interlink Business Park in the heart of the Midlands Golden Triangle – one of the UK's most popular distribution locations.
Amazon already occupies Logicor facilities at Rugeley in Staffordshire and near Prague airport in the Czech Republic.