Aldi boss Matthew Barnes has insisted the launch of online grocery "is not on our radar", despite revealing plans to move into ecommerce.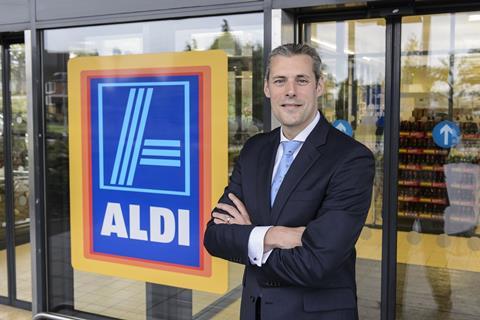 Aldi UK boss Barnes rules out launch of online grocery
But Barnes admitted he would "never say never" to the prospect
Barnes believes supermarket price war is now "slowing down"
He insists grocery rivals "are not going to win that battle" over price
The discounter's UK and Ireland chief executive ruled out the possibility of selling fresh food online in the immediate future as Aldi prioritises the expansion of its bricks and mortar estate over ecommerce growth. It is "on track" to have 1,000 stores by 2022 as part of Barnes' vision to open an Aldi store "in every town and city in the UK".
Aldi will launch its transactional website next year following a £35m investment and has penned deals with undisclosed "third parties" to offer delivery services and 5,500 collection points across England, Scotland and Wales.
"The launch of our core range, fresh and grocery, is not on our radar right now"

Matthew Barnes, Aldi
The site will offer wine by the case during the first quarter of 2016, with non-food special buys poised to follow in the spring.
However, Barnes intriguingly admitted he would "never say never" to extending the discounter's online proposition to include grocery.
"The launch of our core range, fresh and grocery, is not on our radar right now," Barnes said.
"Our analysis of the market has consistently shown that to be a very difficult business to make profitable and it's hugely complex."
Careful entry
"Like in everything we do, we will try to apply the core Aldi principles of simplicity and efficiency to our launch into ecommerce. We are taking it carefully and steadily," Barnes added.
"We are not expecting it, in the short to medium term, to be a huge profit centre for us, but we believe it's the right time for us to learn about what is a complex business.
"We've been watching it for many years and we can't ignore the growth in online."
Barnes insisted it was "not inevitable" that Aldi would eventually incorporate fresh food into its online proposition, but admitted: "We will constantly review our offer going forward, so it's certainly a question of never say never.
"It's no secret that all grocers have struggled hugely to deliver any profit in grocery online and as a discount operator, our model and our commitment is about delivering customers unbeatable prices in the market.
"We wouldn't do anything that would endanger that by increasing our cost base to be closer to some of our competitors."
Price war
Barnes' comments came as Aldi reported a 4% dip in operating profits to £260.3m for the year ending December 31, 2014, despite a 30.7% jump in sales to £6.89bn. Pre-tax profits fell to £250.6m from £260.9 in 2013.
Barnes said the fall in operating profits – its first since 2009 – was caused by heavy investment in price, which was required in order to stay ahead of its supermarket rivals and saw its gross profit margin dip from 6% to 5% in 2014.
The Aldi chief believes the price war is now "slowing down" because grocery competitors have realised "they are not going to win that battle with us".
Sense of panic
He took a swipe at rival retailers who he claimed had attempted to "undermine the quality" of Aldi's offer. The discounter has already launched High Court action against Bargain Booze following its Aldi Shmaldi advertising campaign.
Barnes said: "We won't let our competitors close the price gap. As we've seen from our competitors balance sheets, there's been a huge investment by the grocery market to reduce that price gap to Aldi, but we've not let that happen. Inevitably, it's hit our profits as well.
"The sheer scale of the disruption we have caused to our competitors over the last few years certainly appears to have created sense of panic in the market. It's at times like these that competitors often show their true colours.
"We've seen some seek to undermine the quality of Aldi's products. I can only assume they haven't set foot in Aldi for a long time."
Aldi currently has 598 stores in the UK and is on an ambitious expansion plan to open 65 new stores every year until 2022.
The discounter increased sales by 17.3% in the 12 weeks to September 13, according to the latest figures from Kantar Worldpanel, making it the UK's fastest growing grocery retailer for the 50th consecutive month.
It holds a market share of 5.6% as the UK's sixth largest supermarket after overtaking Waitrose earlier this year.