The Green Party has pledged to implement the "living wage", end the use of zero-hour contracts and increase corporation tax for large firms.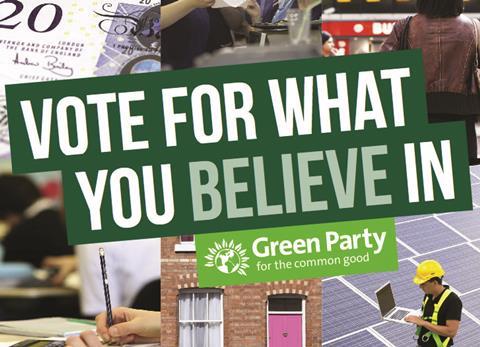 In its election manifesto released today, the party said it wants a "One-Planet economy" that addresses climate change and "unacceptable levels of inequality" in the UK by "championing" small businesses.
The Green Party said that it wants to "improve the competitive position of small firms" by maintaining corporation tax on smaller firms at 20%, while increasing it to 30% for larger companies.
Its manifesto said: "Local businesses are more responsive to local communities and are often better employers than remote, large ones. Income differences are smaller in small firms.
"If poorer people are better off, they tend to spend their extra income locally. So Greens champion small businesses and the local economy."
The manifesto added that the party wants to "ensure that everyone who wants one has a decent secure job paid at least the living wage." It promised to bring in the living wage of £10 an hour by 2020, while also creating one million new jobs.
The manifesto says: "People want to work and the Green Party believes in making that happen.
"We also believe everyone should be properly paid for the work they do, ending working poverty and the job insecurity that has people lining up outside food banks and left at the mercy of payday lenders.
"We will increase the minimum wage so that it is a living wage. We propose a minimum wage target for everyone who is working in the UK of £10 an hour by 2020. In 2015 this would mean a minimum wage of £8.10 an hour generally, and £9.40 in London.
"By ensuring that everyone has access to a secure job that pays at least the living wage we will build an economy that works for the common good, not just the privileged few."
The manifesto said this would be paid for with a new wealth tax on the top 1% and a 'Robin Hood' tax on the banks. The party also pledged to close tax loopholes.