Asda's fashion business George aims to generate 10% of sales online after bolstering its multichannel offer.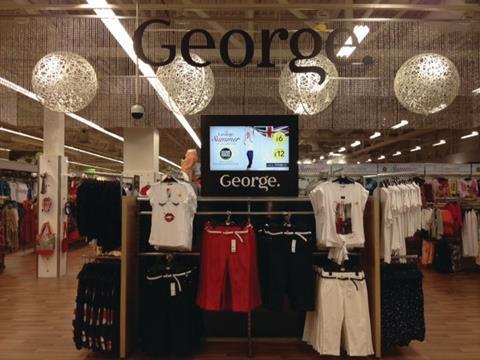 George is reaping the rewards of its new website, launched last year, as well as from click-and-collect customers in stores.
George executive managing director Andrew Moore said that the brand had already achieved the 10% target "in some areas at some times".
He said: "We are confident we will reach 10% and go beyond that." George will also capitalise on click-and-collect customers, who spend an average of £9.30 extra when coming to pick up goods in store.
Moore said: "We are dialling up our fashion credentials across the board while keeping an emphasis on low price."
The brand is also piloting a new format in-store that allows it to have a "shop window" inside supermarkets.
George has reworked its shop-in-shops in Bolton and Fosse Park, Leicester to better display products and improve navigation.
It has cleared the first 16ft of each George section and used the space to display models and plasma screens showing fashion shows and product designs.
The George areas have been designed to allow more obvious differentiation of product so that shoppers who want to browse more fashionable clothes can easily identify them, while others can quickly locate functional clothing including schoolwear. They also feature improved lighting and new flooring.
The Bolton trial began six months ago while Fosse Park opened last week, going from 12th to first among George's best performing locations.
Moore hopes to roll out the "more spacious, more contemporary" format to further stores later this year.
George is to open its first franchise stores in the Channel Islands in the next two weeks and will debut in the Middle East this summer. The brand's clothes will also be sold through 47 Walmart stores in Chile.
Moore said George's acquisition of the sourcing division of Turkish supplier GAAT this month gives it mpre flexibility.