Sainsbury's has launched a fashion collection to celebrate the 10th anniversary of its clothing brand Tu.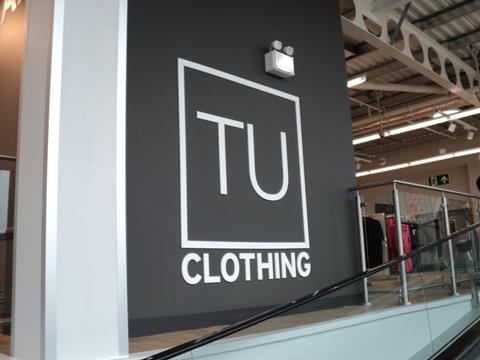 The 10th Anniversary Collection includes womenswear, menswear and childrenswear and will be available in more than 400 stores from September 7.
Sainsbury's has also collaborated with the Royal College of Art and the Anniversary Collection includes the first of four collections of 10 items designed by masters' students. These will be on sale in 35 stores from late autumn.
The Tu clothing brand is currently the seventh largest by volume and 11th by value, according to Kantar figures. James Brown, non-food trading director, said Tu had moved up to 11th in value from 15th in the last 12 months.s
He said the anniversary collection shows the "confidence" Tu now has in the market. "The collection showcases where we are and hopefully will raise our awareness."
Sainsbury's last month launched its online pilot for Tu in the Midlands. Brown said the launch went well and "it is a test bed for the appetite for Tu, and also to test our logistics and proposition". He said roll-out should be expected in 2015.
Brown said that Sainsbury's is delivering double-digit like-for-likes for Tu and that non-food in general is "still seeing good growth".
He said that the launch of discount grocer Lidl's clothing collection was "inevitable". He said: "You see the progress of the discount grocers, they've always done GM stunts, so the clothing launch seemed inevitable."
He added: "We will keep an eye on it. We're very aware of what's going on in the wider market, and everyone is a competitor. It will make us focus even more on what we are good at and that is quality and value."
The Tu Anniversary Collection includes statement pieces through to classic staples.
The Tu autumn collection includes folk inspired pieces, bold brights and prints, and 1960s silhouettes. The Christmas collection includes vintage Christmas motifs and Fair Isle patterns.
Tu milestones
2004 (September) Tu launched in 160 stores
2007 Began selling Fairtrade T-shirts
2009 Launched basics range
2011 James Brown appointed Sainsbury's clothing director
2011 Launched the first Gok for Tu range
2012 Launched own label Back Smoothing Bra
2012 Tested new department store format, now in 118 stores
2013 Relaunched Tu with a more contemporary feel, under 'Live Your Style' strapline
2014 Signed a new two-year deal with Gok Wan
2014 (August) online pilot began
2014 Celebrates 10th birthday