Discount retailer QD Stores plans to open pop-up shops to tackle the shortage of larger store space available in key regions.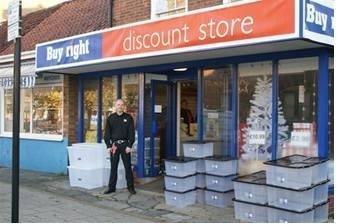 Chief executive Justin Farrington-Smith said he has been unsuccessful at finding the right sized store space in the right locations. He declined to divulge exactly what locations he is eyeing.
Single-price retailer Poundland also aims to open more of its smaller express stores in areas where space is limited.
QD Stores opened a trial store for the Christmas period in Swaffham, Norfolk at the end of October. It is QD Stores' smallest shop, at 1,600 sq ft, comapred to the standard size of between 8,000 and 12,000 sq ft.
Farrington-Smith said sales for the store are above expectations. It is scheduled to stay open until January but "there is a fair chance it will open beyond that," he added.
Speaking about plans to open more pop-up stores he said: "There is no finite number of stores we want to open, it just depends on the locations on offer." QD Stores still aims to open up to 50 permanent shops in the "foreseeable future". At present it operates 38.
The pop-up shops will follow the model of the existing store, which offers seasonal products and deals while regular replenishment lines, such as batteries, are limited.
"We want landlords to come and talk to us. We know we can set up temporary stores, whether that's 1,500 sq ft or 15,000 sq ft," said Farrington-Smith.