As more and more shoppers jump on the Card Factory bandwagon, its biggest rival Clintons is fast being exposed as a house of cards.
Card Factory is in the midst of rapid growth, and the value retailer's performance and wider macroeconomic conditions have combined to heap its closest specialist rival under increasing pressure.
Card Factory has gone from strength to strength since a rocky IPO in May 2014, when its share price slid 6% on its stock market debut.
In its latest trading update, a pre-close statement covering the six months to July 31, Card Factory posted a 3.1% jump in like-for-like sales.
Interim profits, when revealed next month, are expected to be in line with expectations.
During its first half, Card Factory continued its aggressive store-opening plan, launching a net 30 new sites – including its first in the Republic of Ireland.
Retail parks are also a key focus for the business, offering a second huge expansion opportunity as it continues a drive to grow its 850-store estate to 1,200.
It is no wonder, then, that broker Peel Hunt increased Card Factory's share price target late last week from 400p to 430p.
But as Card Factory beefs up its bricks-and-mortar presence, the foundations at Clintons are looking increasingly wobbly.
"At its financial year end, 75% of Clintons' estate had been rebranded to its 'tomorrow' format. Yet 69% of its stores had been through that store modernisation process at the end of 2015/16"
In results filed at Companies House this week, the American Greetings-owned retailer suffered a pre-tax loss of £19.4m in the year to January 28 as revenues fell 3.1% to £201.2m.
Like-for-likes were also down 1%, although the business insisted that sales were "increasing slowly by the end of the year".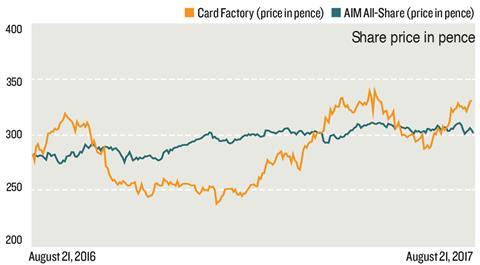 In truth, it has to act faster if it is to spoil a Card Factory party that is currently in full swing.
At its financial year end, 75% of Clintons' estate had been rebranded to its 'tomorrow' format. Yet 69% of its stores had been through that store modernisation process at the end of 2015/16.
Clintons said the slowdown was a result of its ongoing portfolio review and, while some of its 388 stores are likely to shut, closures alone will not solve Clintons' problems.
A visit to Bluewater tells a story that is surely replicated in shopping centres and high streets up and down the country.
Card Factory vs Clintons
In Card Factory, a good selection of greeting cards with price points ranging from as low as 29p to a more 'premium' £1.50 for larger alternatives represented clear value for money.
Accompanied by an increasingly deep and colourful range of gift wrapping, balloons, novelty mugs and speciality decorations for occasions such as weddings, it was no surprise to see a queue stretching literally half way around the store.
The same, unfortunately, could not be said of Clintons, just around the corner.
Its range may be better in terms of SKU count, but cards very similar to those that could be snapped up for under £1 in Card Factory were on sale for £2.50 in Clintons.
Larger cards were retailing for £5 or more – a huge differential for what is, arguably, a negligible difference in quality.
The exchange rate fall-out of the Brexit vote has made it more expensive for Clintons to purchase goods from US$-denominated suppliers and restricted its ability to reduce shelf prices without slashing margins.
With many observers predicting a flight to value amid the economic uncertainty and inflationary pressures being felt in the UK, Card Factory's vertical integration should allow it to extend its lead over Clintons further still.
Now could be the perfect time for investors to follow those consumers who are joining the Card Factory party.