Topps Tiles' like-for-like sales have jumped 5.9% during its third quarter as the retailer continues to grow its market share.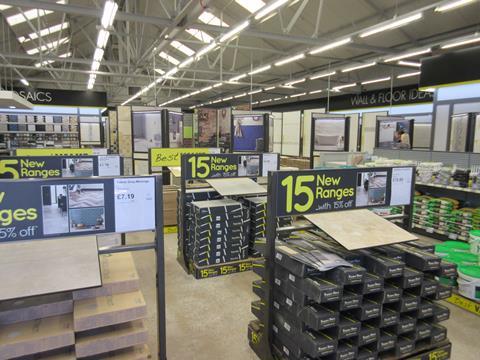 The growth has slowed marginally compared with the same period last year, when like-for-likes rose 6.3%.
The retailer said it has made good progress by "out-specialising the specialist" as it focuses on inspiration, range and convenience.
Topps Tiles chief executive officer Matthew Williams said: "Trading in the third quarter has been encouraging, building on the positive trend we reported for the first half.
"With our plans to extend the appeal of the Topps brand well underway, we remain well-positioned to continue to grow our market share in the remainder of the year."
Topps Tiles launched a lab store in Worcester as part of its inspiration drive which trials new merchandising elements of its boutique format in its warehouse stores.
During the third quarter Topps launched 14 new ranges. Last month commercial director Brian Linnington told Retail Week that the retailer was seeking inspiration from unlikely sources.
Its 'patchwalk' tile was inspired by a park in New York, while the Francisco Segarra range was produced using a digital imprint from an abandoned villa in Spain.
Topps is experimenting with a new hybrid store format as part of its convenience push as it seeks to open in locations it was not previously able to reach.
The retailer currently trades from 346 stores and expects to end the financial year with 348.
Management said it remains "comfortable with current market expectations for the year as a whole".