John Lewis's sales were boosted by a strong performance from its nursery range and people panic-buying vacuum cleaners during the week to September 6.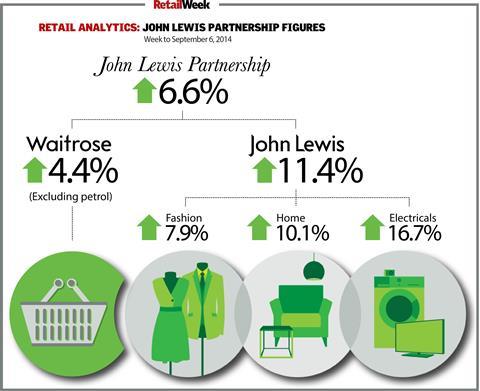 The retailer's sales were up 11.4% year on year to £70.2m as its nursery range increased 22% and continued to grow market share.
Sales of small electricals were up by 43% as the continued demand for vacuum cleaners proved to be one of the key features as consumers rushed to buy them before an EU directive bans vacuums that use high amounts of energy.
Tablet and computing sales benefited from the 'off to uni' impact as sales rose by 14% with the Microsoft Surface proving especially popular with customers.
Meanwhile, Waitrose's sales excluding petrol increased by 4.4% for the week with the return of the warm weather, suggesting people have still not put their barbecues away for the year.
The grocer's range of barbecue meats saw sales growth of 14% and sales of its range of barbecue fuels such as charcoal, briquettes and fire lighters tripled.
The sunny trend continued into drinks, with sparkling wine sales up 39% and ready-to-drink cans such as gin and tonic up 25%.
Waitrose's gardening range continued to grow, with sales up 44% as people enjoyed the opportunity to be outside.