Menswear specialist Moss Bros posted a surge in total sales from continuing operations of 12.9% in the 15 weeks to May 14.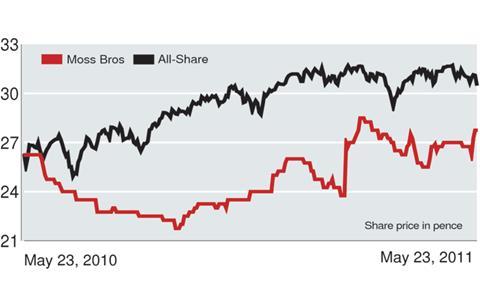 Like-for-like sales jumped 8.2% over the period, when like-for-like gross profit climbed 9.8%.
Moss Bros launched a new store format earlier this month as it simplifies its business model. The pilot store, which offers hire, retail and bespoke suits under one roof for the first time, opened in Canary Wharf.
Moss Bros chief executive Brian Brick said: "The selective refurbishment of our stores and a more simple business model will enable us to focus on the strengths of our core Moss brand."
The retailer disposed of its Hugo Boss franchise stores last month, receiving £5.1m cash for stock. The remaining £12.3m will be received on the successful assignment of store leases to Hugo Boss.
Brick said: "We remain confident about our medium-term growth prospects."