Homebase has outpaced Argos' sales growth as parent company Home Retail recorded a jump in annual pre-tax profits after a focus on cutting costs and growing gross margins.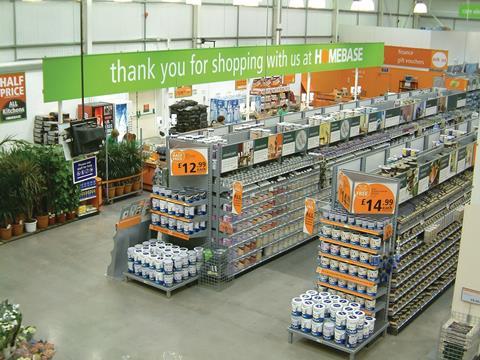 Group pre-tax profits increase.
Homebase and Argos like-for-likes grow.
Group slashes costs by £14m across the year.
Homebase increased like-for-like sales by 2.3% as Argos like-for-likes grew 0.6% during the year ending February 28.
Home Retail's benchmark pre-tax profits jumped by 14% to £132.1m during the year, while total sales edged up 1% to £5.7bn.
Operating profits at Argos increased by 15% to £129.2m, while Homebase increased operating profits by 5% to £19.8m.
Home Retail chairman John Coombe said: "Our focus on managing costs and gross margin together with our ongoing cash management were all critical in delivering this good overall financial performance. We are recommending an increase of 15% to the full-year dividend."
The retail group reveals it decreased its operating and distribution costs by £14m to £1,9bn during the period.
Home Retail chief executive John Walden added: "I believe the strategic plans we are pursuing across the group will enable us to innovate and lead in a rapidly changing retail market."
The strategic plan includes the closure of one in four Homebase stores, which the retailer said is making "good progress".
It has now reduced the store estate "in a cash generative manner" by 27 stores to 296 stores.
During the year Argos completed the national roll-out of its 'hub & spoke' distribution network, which involves larger stores delivering to smaller stores nearby and enables same-day collection of around 20,000 products.
Argos also now has 60 of its digital stores trading, while web sales accounted for 46% of total sales as mobile commerce grew to represent 25% of total sales.