Retail sales growth in April will be lower than experienced historically but will be up year-on-year, a new monthly forecasting service for Retail Week subscribers reveals.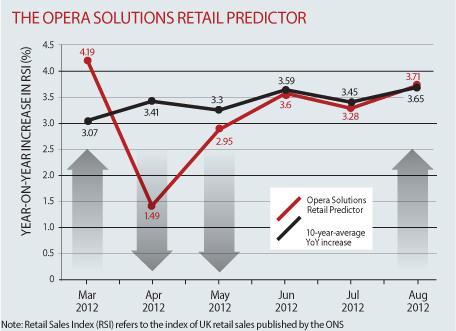 Total sales will rise 1.5% year-on-year, which is below the 10-year average of 3.4%.
April's rise will follow what is expected to be a strong March, when revenues are forecast to be up 4.2% year-on-year compared to a 10-year average of 3.1%.The data comes from the Opera Solutions Retail Predictor, a monthly analysis in partnership with Retail Week.
The forecast has been calculated by predictive analytics firm Opera Solutions, which deploys cutting-edge techniques and combines multiple data sources to help retailers drive profit growth.
Opera executive director and Europe lead Ray Eitel-Porter said the Predictor will be useful in informing short-term tactical decision-making, such as stock clearance, and medium-term decisions including ordering.
Eitel-Porter said retailers should not be disheartened by the apparently poor outlook for April because year-on-year comparisons have had an effect.
Eitel-Porter said: "We're not predicting a bad April, it's just that last year's was very good."
The Predictor has been created using data ranging from the price of gold to the timing of Ramadan, and back-tested against ONS numbers over a 24- month period. The results showed an average error margin on the one-month forecast of 1%.
When tested to make real forecasts for December 2011 and January 2012, the predictions were just 0.1% and 0.3% off the eventual ONS numbers.