Inditex's net profit soars 15% to €2.88bn
Like-for-likes jump 8.5%
Inditex added 330 new stores in 56 markets over 2015
Current trading update reveals 15% sales growth
Zara owner Inditex has posted a sharp rise in full-year profits and sales as it continued its global store expansion plans.
The world's largest fashion retailer said today that net profits jumped 15% to €2.88bn (£2.22bn) in the year to January 31, 2016. Total sales rose 15.4% €20.9bn (£16.1bn).
Like-for-likes in the period rose 8.5%, compared to like-for-like growth of 5% in 2014.
Inditex did not offer a breakdown of sales or profits in individual countries but did say there was "positive growth in all geographies and across all the formats".
The group, which owns Zara, Zara Home, Bershka, Massimo Dutti, Pull & Bear, Oysho, Stradivarius and Uterqüe, opened 330 stores in 56 markets over the year. This takes its total stores to 7,013 in 88 markets.
Current trading
Inditex also revealed that its current trading was healthy, with sales in constant currency rising 15% between February 1 and March 7. This figure was adjusted for the leap year.
In its last financial year, Inditex launched websites in Australia, Hong Kong, Macao and Taiwan. It now has an online presence in 29 of its 88 markets.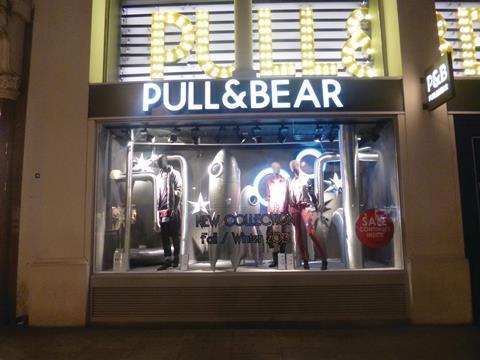 It added the following fascias to new markets: Zara Home in Australia and Japan; Uterqüe in Denmark and Sweden and Zara in Taiwan. Inditex also opened Massimo Dutti, Pull & Bear, Oysho and Stradivarius in China.
The group will launch a physical presence in five new markets in 2016: Aruba, New Zealand, Nicaragua, Paraguay and Vietnam.
The fashion retail giant invested €1.52bn (£1.16bn) in capital expenditure projects over 2015, investing in the group's international growth and the expansion and modernisation of its logistics and design facilities in Spain.
It created 15,800 new jobs, including 4,120 in its domestic market of Spain.