New Look boss Alistair McGeorge was in remarkably bullish mood this week for somebody leading a company with losses of £75m.
The erstwhile chief executive, who returned to the helm last year as executive chairman, reported a year characterised by downwards numbers: UK like-for-likes plunged 11.7% over the year to March 24 while own-website sales plummeted 19.2%. However, third-party ecommerce sales did rise 15.5%.
To be fair to McGeorge, he has only recently taken over from ousted former chief executive Anders Kristiansen, and has set out an entirely new strategy for the coming years, which he is less than three months into.
But he was characteristically dismissive of criticism around the business' company voluntary arrangement and customer strategy.
Not closing stores
New Look unveiled plans to close up to 60 stores and reduce rents in another 393, a proposal met with scorn by observers who claimed its CVA is the property equivalent of fiddling while Rome burns. But McGeorge rebutted this claim.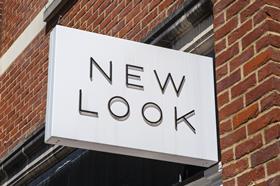 "When everyone tells me I should have closed 300 stores, I just smile," he told Retail Week. "They don't understand the business. People wrongly compare us to businesses like Zara. The heritage of this business is a market town business so I'm not sure I agree [closing more stores is necessary]."
He explained the methodology behind the decision to close 60 stores as dependent on profitability, adding: "Many small stores are very profitable for us… and the recent improved performance is often at the smaller store end."
New Look is paying just 40% rent on those stores and from September will pay nothing at all. But while these have been earmarked for closure, McGeorge insists the company may not close any stores.
"None of them will close this calendar year and we will make the right decisions [on whether to shut stores] at the right time. We had to designate them for closure in the CVA but have no active plans [to close branches]," he said.
Green shoots
McGeorge was adamant "green shoots" were beginning to appear as a result of the new strategy. He identified categories including dresses as improving thanks to the work of creative head Roger Whiteman, previously let go by Kristiansen, and maintained New Look has "started to re-establish our position".
"We are number one in market share in the 18-44 age bracket," McGeorge added. "We lost that but we regained it again 10 weeks into the new strategy and are currently eight points better than the BRC average for clothing sold in stores."
"McGeorge makes a compelling argument for why New Look could prove its critics wrong"
New Look's value credentials are also being addressed: 84% of product is now priced under £20 as opposed to 75% in the previous year, while its store customer conversion rate was up from 22% to 25%.
Most reassuring is the improvement in New Look's open-to-buy position: currently it has 30% open-to-buy for August and 60% for September. This time last year, those figures stood at 4% and 24% respectively.
It is also aligning pricing better across its online and store channels, and is investing in its platforms to stem its falling digital sales. This is a demanding task but the decision to poach former Topshop digital guru Kate Walmsley from Warehouse is a solid move and her expertise should help the business achieve its online aims.
McGeorge makes a compelling argument for why New Look could prove its critics wrong but he still has a mountain to climb. Harder still, given New Look's rocky recent history, will be staying on top.
Becky Waller-Davies is retail editor of Stylus and was previously senior reporter at Retail Week.