Store Twenty One has collapsed into compulsory liquidation, sparking the loss of 900 jobs.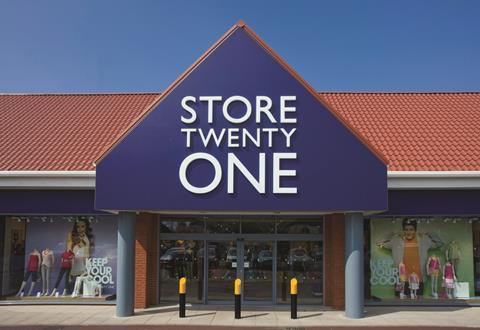 The beleaguered fashion chain's remaining 122 UK stores will close after failing to secure the investment it needed to survive.
Corporate recovery and business advisory firm Quantuma have been appointed to handle the liquidation process.
Store Twenty One has been facing an uphill battle since it launched a Company Voluntary Arrangement in July 2016, which saw it close around 80 shops.
But just a month later its staff accused the retailer of paying its wages piecemeal rather than as a lump sum at the end of every month.
Retail Week revealed in May that Store Twenty One, which is owned by Indian conglomerate Alok Industries, had filed a notice of intent to appoint administrators.
Documents seen by Retail Week revealed that it had fallen behind on rental payments and had also been presented with a winding-up petition by HMRC in relation to unpaid taxes.
Store Twenty One was handed a stay of execution at the end of May, as it was granted extra time to secure the funding it needed to fend off collapse.
The retailer also sold its head office, Alok House, on Solihull's Drayton Road industrial estate, in a deal that brought in around £3.2m.
Although the administration application was withdrawn, the court has now issued an order to wind the business up.
Quantuma's Simon Bonney, Carl Jackson and Paul Zalkin will handle the liquidation.
Bonney said: "It is very sad that matters have got to the stage where all the stores were closed by management on Friday following a prolonged period of uncertainty leading up to the liquidation.
"We are now in the process of conducting an orderly wind down and we would welcome contact from any interested parties who may wish to purchase assets of the company."
He added: "The traditional retail sector continues to face significant challenges, not least with the changes in business rates. The company was founded in 1932 and unfortunately it is another example of the difficulties arising in the current economy."