The latest outpost from fashion retailer Jigsaw shows what is possible when you start with an empty box.
Moving into an architecturally significant building will generally mean that much of the work is already done if you are a retailer in search of a winning store environment.
The smartest operators will make the most of what's already there, emphasising floors, ceiling and everything in between.
But what happens if you move into an architectural void – an empty space with nothing to mark it out?
This is probably the experience for most retailers who opt to trade from a mall or a standard high street unit, and turning this kind of shop into a must-visit location is a big challenge.
Jigsaw, the fashion chain sitting somewhere between designer and the better end of the mid-market, is not the sort of outfit you'd readily expect to find in a shopping centre (although it does have a store in Westfield London) and for the most part it occupies buildings with character.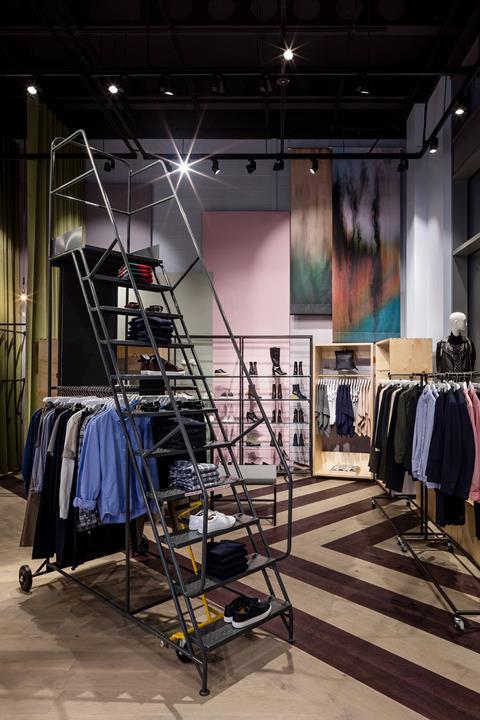 It's a surprise, therefore, that it recently opened a store in the pedestrianised strip that runs between King's Cross St Pancras station and Granary Square, the latter being home to Waitrose, Central St Martins art school and a range of chichi restaurants and small shops.
This is something of a no-man's land through which people pass en route to somewhere else.
That said, Jigsaw is in good company with Nike and forthcoming stores from Carhartt and & Other stories, among others, for neighbours.
Directly above the retail units are the offices of advertising giant Havas, and the nascent Google campus, which will house up to 7,000 workers, is directly opposite the store (the tech giant already occupies a nearby office block).
Couple this with commuters and the international set shuttling backwards and forwards to Paris and Brussels and there is a ready-made customer base.
A unit with 'no character'
Jigsaw chief executive Peter Ruis is clear that opening in this part of the King's Cross redevelopment was non-standard, given the retailer's preference for noteworthy buildings.
"This could be a unit in a shopping centre, it has no character," he says. The "fluid" brief given to design consultancy Checkland Kindleysides was, effectively, to make the interior interesting.
Like the other units along this strip, this 2,300 sq ft store, that opened on August 23, has a very high ceiling. In this case it is blacked out and has a black metal lighting gantry suspended from it.
Ruis says that there are three points about the store that should be noted: "There is no geography through the space… there are no formal walkways."
To this can be added the lighting, which Ruis points out consists of "big lights of the kind that you might see in a big bar in New York at three in the morning".
The final element is the height, which has allowed stepladders and scaffolding to be used as display vehicles in the mid-shop.
All of which means that the store has an almost haphazard feel to it when the shopper stands on the threshold and assesses what's on offer.
But there are aspects that stand out. The scaffolding has been sprayed pink and bears a sheet of metal with the legend 'Denim' stencilled on it – an attention-grabber.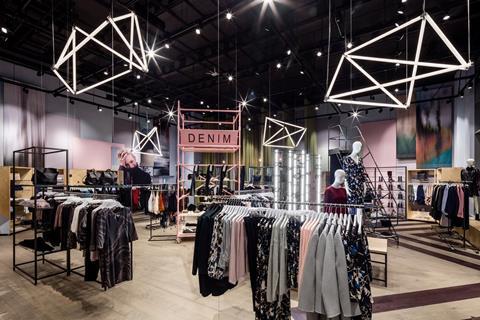 Dramatic choices
The minimal approach to display that is one of the hallmarks of this store means that the viewer is not overwhelmed by the usual wall of jeans.
Geometric clusters of white neon lights are dotted overhead – they have the appearance of a junior school's 'let's make a tetrahedron' class about them. These pulse on and off and it is hard not to look.
Around the perimeter, plywood box wardrobes create lifestyled garment vistas.
Dusty pink curtains are suspended from the lighting gantry and pastel-washed boards sit behind these, creating the impression of a theatre set. Even the fitting rooms look like the curtains that actors use to quit the stage discreetly in the middle of a play.
One of the great retail clichés that still gets trotted out from time to time is 'retail theatre'.
What is on view in Jigsaw King's Cross is retail that really does take the shape of a theatre, with many of the features that you'd expect of that form of entertainment.
This is a store that started life as a featureless box and now has real character, and if retailers want to know how to use space well when confronted with a blank canvas, they could do worse than pay a visit to this Jigsaw.
It also happens to be performing 30% ahead of target, according to Ruis. Jigsaw obviously knows how to slot things into place.
What makes Jigsaw King's Cross interesting?
High ceiling, stagey lighting and minimalist display equipment
It's one of the few higher-end fashion operators in the area
The materials and colour palette have been kept simple
There is no obvious store 'geography'