In the latest instalment of our Retail Reimagined series, examining how traditional formats would look if they were redesigned today, we explore the fashion store 2.0.
With footfall on the high street dwindling and pureplays such as Asos, boohoo and Missguided gobbling up market share, there is increasing pressure on fashion retailers to innovate to keep shoppers coming back to stores.
The fashion business is hard. It's seasonal, trends change dramatically and unseasonable weather can leave retailers with a pile of products to discount.
But it doesn't have to be, argues Arcadia design director Guy Smith, who believes that technology such as AI will make fashion design more of a science than an art.
"The entire apparel industry is very wasteful as we produce stuff hoping that people will buy it," he says.
Multi-category merchandising
"As AI comes into maturity it will help us to better range and design. In the near future, for any single type of apparel you'll be able to run an algorithm for your demographic and it will help you define what style, colours, cuts and features will and won't work for them."
And when analytics have helped determine design, orders will not be in bulk but products will be tested online to gauge reaction, says Smith. That will determine how big the buy is.
Anthropologie managing director for international Peter Ruis says if he were building a fashion store from scratch it would sell more than just clothing.
"If your brand can take multi-category you'll be better off. Luxury brands are showing the way on this with beauty and sunglasses," he says.
Ruis says selling other categories will stop fashion specialist being so dependent on seasons, weather and age.
"I see it at Anthropologie every day," he says. "We're so good at jewellery and stationery that I'm not as dependent on fashion as I would be in any other business, although it's related to a fashion cycle and fashion brand."
To stock or not?
But would the fashion store 2.0 stock physical product? That is a bone of contention among the experts.
For retail guru Bill Grimsey, stock in stores is now superfluous.
"I wouldn't be tying money up in stock," he says. "My fashion store would have magic mirrors and people could see themselves in designs and then enter their measurements, order it and have it shipped to them in 24 hours. A bit like in Hong Kong were you can have a suit made to order in 24 hours."
This would involve having clothing manufactured in the UK.
"I wouldn't have capital tied up in stock so it would be financially viable to bring back manufacturing to the UK."
Conversely, Smith insists that in fashion, the touch and feel of products is still paramount. However, he says fewer products are required on the shop floor and retailers need to be more inventive in how they are displayed.
"Bring the inventory to life through storytelling…group products according to mindsets and missions"

Paul West, Dalziel & Pow
"Only one of everything should be displayed but in the most exciting way," he says. "It'd be put into context of where this fits into the fashion story and the wider context of the change in zeitgeist. We have to get much better at that and not just put out racks of product."
Paul West, strategy director at retail design agency Dalziel & Pow, agrees. Rather than displaying product around categories, retailers should "bring the inventory to life through storytelling," he says. "We should group products according to mindsets and missions."
This could be products that someone who wants to be more successful or healthier may purchase.
The AR changing room
Lara Marrero, senior associate and retail leader at design and consulting firm Gensler, agrees that one of each product on the shop floor is sufficient.
She says shoppers should be bale to tell the store assistant or in-store tablet the sizes of the items they want to try on and when they go to the changing room all the products they have chosen should be waiting.
This will save shoppers from traipsing around the store with armfuls of clothing.
"There isn't a hard border between front of house and back of house. Your stock room is full of sizes that are fit for purpose," Marrero explains. "And if a size doesn't fit, we don't have to do that weird thing of getting dressed to pop your head out and ask for a different size or worse still get it yourself, you just add a new size to your list," she adds.
However, the changing room may well disappear from the fashion store of the future as, like Grimsey, Smith advocates virtual try-on in his revamped fashion store.
He says this would remove friction from the shopping journey.
"We've seen great augmented reality in the make-up world already. There's a huge technical challenge in terms of live rendering time of apparel. It's not quite there yet but it will come," he predicts.
Technology isn't the only way customers can visualise themselves in clothing.
Marrero would take an old-school approach to show off clothing and give an idea of fit.
"The retail experience is about understanding how a customer connects with the brand and, in some cases, the store would become a runway," she explains.
"Like retail in the 1940s and 1950s, you turn up and women are walking around wearing the clothes but instead of it being people who aren't your size you would have people with similar shapes to you."
Made on demand
Struggling to find the right size will be banished going forward, as product could be made on demand.
Marrero predicts there will be an in-store tailor who will measure up customers who can then pick out the style and material they want, with the product then manufactured on site.
"The product is for them and by them. If people love a style but want it in a different fabric they should be able to get it"

Lara Marrero, Gensler
"The product is for them and by them," explains Marrero, who points out that this method of production is both better for the environment and will prevent surplus stock. "The pattern itself is the IP, sizing it up and down should be easy. If people love a style but want it in a different fabric they should be able to get it."
This is not the only bespoke element – shoppers should be able to customise products in-store, adding embellishments, and also have products repaired and altered, she adds.
In-store influencers
The fashion store 2.0 needs to provide both inspiration and convenience. When it comes to inspiration, Marrero says online is her first port of call as she gravitates towards influencers for style ideas.
Rather than just paying to work with influencers on social channels, Marrero suggests fashion retailers bring these individuals into the store.
"Why aren't we bringing those people into the brand and helping them style others? Rather than just being sponsored by a brand, they can do styling in the stores and take part in that experience," she says.
In fact, Marrero goes a step further and says the sales associate of the future will actually be an influencer and shoppers with flock to store to seek out their advice.
"You'll be able to share your wardrobe with them digitally like Cher did in Clueless. If they know everything in your closet they can style you."
Fashionistas and foodies
Experiential retail has given rise to in-store bars and cafes. From Saucer and Spritz, Oasis' in-house eatery in its Tottenham Court Road store, to Next teaming up with celebrity chef Gino D'Acampo to open in-house restaurants – fashion retailers across the spectrum are offering sustenance for shoppers.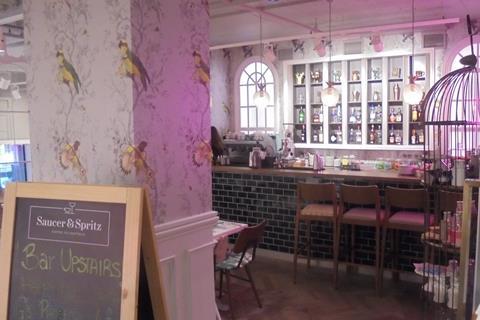 Ruis believes cafes and bars in fashion stores do work but says it's less about experience and more about paying the rent.
"With rents and business rates being out of control, if you can share the rent with someone else who does something different to you, why not?" he says.
At the moment, people will still go out for coffee. If they'll go out to you and you get rent and commission back for your store, and if you're lucky get dwell time and shopping, then so be it.
"It's a good expedient thing to do it you're in the right area and have the right coffee provider, it can be brilliant."
Flexible exhibition space
In this world of fast fashion, customers expect constant newness and not just in terms of product. Stores need to evolve to bring a new experience every time they visit.
Smith says although retailers have some flexibility in their fixtures and fittings and can move things around, fundamentally the store never looks or feels dramatically different. "The tone never changes," he laments.
Instead, retailers need to treat the store like an exhibition space that constantly reinvents itself. This will mean that fixtures will have to be less expensive to be rebuilt regularly.
And with consumers ever more time poor, fashion retailers need stores to be more convenient.
West cites US department store Nordstrom's small format as a great example of this.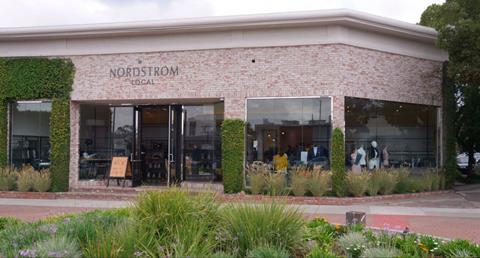 The first Nordstrom Local store opened in LA late last year and very recently the retailer revealed it would open a further two stores across the city.
The Local store acts as a neighbourhood hub, offering shoppers services such as click-and-collect, alterations and personal styling.
The experience is enhanced by a new speedy online delivery service 'Get It Fast', which gives customers in selected postcodes a real-time view of inventory that can be delivered no later than the next day, either to a Nordstrom store or to addresses.
The way we pay for our fashion purchases needs to change if the store is to become more convenient. Smith predicts that physically paying will soon disappear. "The whole idea of queuing up to give a company your money will become quite abhorrent for many people very quickly and a subconscious part of the journey," he says.
"The shopping experience will be about surprise, delight, discovery and acquisition, not processing a payment."
Ruis believes that self-service will become a reality in fashion.
"Urban Outfitters [Anthropologie's sister company] is doing self-checkout in the States at the moment, which has been hugely successful," he reveals.
"It's much easier in a fashion store than a grocery store as you don't have to measure apples or whatever."
However, Marrero is uneasy with this notion. "I love the idea of not needing a card but I'm not sure self-service is the answer," she says.
"It makes people feel like it's a disposable purchase like going to the grocery store. We're choosing convenience rather than making people feel good about what we're doing."
The fashion store 2.0 must serve multiple purposes: convenience, inspiration, discovery and excitement. The retailers that get this right will hold their own against Asos, Boohoo and the like.
Retail Reimagined: How traditional formats might look if redesigned today
1

2

3

4

5

Currently reading

Retail Reimagined: Designing the fashion store 2.0

6

7

8