Retail Week speaks to Miriam Lahage, former head of fashion at eBay, who has moved to plus-size start-up etailer Navabi to head buying and merchandising.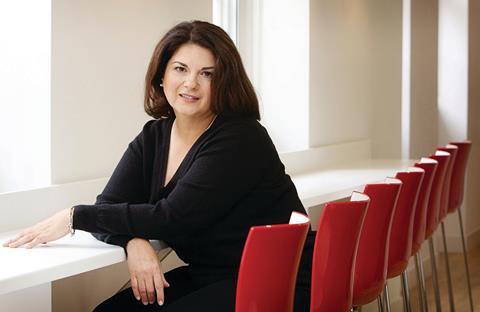 Tell us about Navabi?
We are the exception to the rule – for the most part people think of plus-size as cheap and disposable clothing, because people think they don't deserve to have nice clothes that are on trend and on fashion.
We sell clothes in UK size 14 to 24 and they are approximately one or two steps above high street prices.
How did it get started?
The two co-founders stumbled into the business by accident. They were in Germany and one of them had an aunt who had a small clothing store, and they ran their web development business from her basement. They offered to sell her merchandising on eBay and discovered that premium plus-size clothing was resonating with customers across the world.
That's how the business evolved into what it is today and five years later we ship to over 30 countries. We focus on the UK, German and French markets, and do business with over 100 brands and we're poised to launch our own-brand label as well.
Would Navabi ever consider bricks-and-mortar or is it online through and through?
Navabi is only online, although our customers ask us repeatedly to open up in bricks-and-mortar. But our focus has always been online, part because there are customers everywhere who are underserved and quite frankly they don't have shops they can easily get to that are going to give them the merchandise they are looking for.
And if they go to the department stores, the plus-sized merchandise is typically in the back, next to televisions or homeware and near the life and not near the rest of fashion, and a really small selection. But online we have elastic walls.
Never say never, it is possible at some point there might be a pop-up shop or two, but our focus at the moment is with the online business.
How did you get involved with the business?
I got introduced by mutual colleagues about a year ago who knew I'd been in the fashion ecommerce business for a while and had done a fair amount of business in Germany as well. They were looking for a board advisory and I joined and continued to work with them around strategic plans.
From that I ended up getting more and more involved and when Navabi closed its latest round of funding last year, I formalised and at the beginning of this year became a proper employee.
What skills do you bring to the Navabi team?
I have no idea! First of all I'm a woman and I have decades of experience in buying and merchandising. I've also been in the online space since the late 1990s, and had experience in Germany, UK, US and France.
And I guess because I'm not 22 – I can provide a good balance to people who are earlier in their career doing good things but not had enough years to make all the mistakes I have in my career.
What is the state of the plus-sized market?
Actually what's interesting, when I was at TJX and Marshalls in the US, from a bricks-and-mortar perspective my buyers bought and merchandised plus-sized brands, and then when I was at Net-a-Porter, I saw there was a customer group who loved Net-a-Porter but obviously because it was a straight-size site they couldn't possibly buy from there.
Then when I was at eBay I saw this huge demand, where women would look to eBay to meet their fashion needs because they couldn't find merchandising anywhere else.
So if I didn't believe before then, it's one of the reasons Navabi has been so successful and has gone strength to strength, because clearly this is a very very underserved population.
Why are there not more plus-sized retailers?
It's not only the fashion industry, but the media as well. Firstly, it's more complicated to design and produce plus-size apparel, and many do it as an add-on to straight-sized business.
Here in the UK and the across the rest of Europe, women's apparel has been a challenging market, so it is not the time or the place when people think of expanding sizes – they want to get their size ranges they're doing well in and perfect it.
I also think there is sadly an invisible nature of this customer, we think we can forget about them, even though average size in UK is 14, so half of women are being underserved by retailers today.
I can remember when Cindy Crawford was the supermodel, she would now be too big to be a supermodel in 2015. It's a fascinating business, and there's an expression about start-ups: You can be candy, which is something nobody needs, a vitamin which is something nice to have, but don't have to have. Or you can be aspirin.
Where do you see yourself in five years' time?
I never take a job that I know I can do, I want to continue the challenge and have that pit in my stomach and think 'holy cow, how am I ever going to do this, it's too hard?'
But there are times I succeeded and times I've sometimes had to fail my way into succeeding in a role. But in five years' time, I hope I'll be doing some challenge that will be helping me continue to grow.