Next boss Simon Wolfson gives his views on the current economy after the home and fashion retailer reported a rise in profit but decline in like-for-like sales in its first half.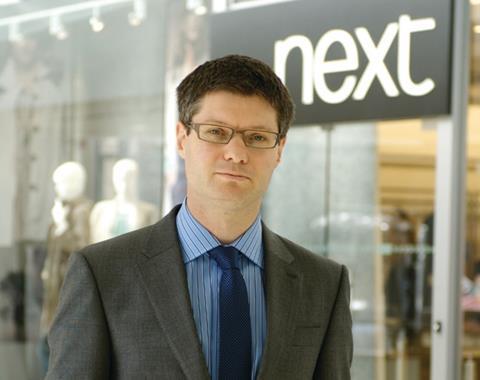 There was a weakness in sales between August and September, what caused this?
Simon Wolfson: We don't know if that was a genuine slowdown in the economy or if it is all the unusual things going on in August whether it be the Olympics or the weather or more people shopping overseas, we don't know which of those affects it is. My strong suspicion is that the last six weeks aren't indicative of the general consumer economy and are more likely to be caused by the unusual events of August but we won't be sure until mid-October.
I think that trade is going to be subdued over the next six months.
It's not a disaster, it's not Armageddon but I think we can expect to see some stores moving backwards, which at Next we will offset by growing online sales and opening new space.
Has trading been tougher than you expected, as the weakness in August to September didn't seem to be anticipated?
The reality is the consumer environment is becoming more and more volatile.
"If you are trading online there is no rent, there is no fixed cost and the people who like you will find you."

Simon Wolfson
What we're finding is the good weeks are better than we've ever seen before and the bad weeks are worse than we've ever seen before and what that comes down to is that the consumer is buying closer and closer to the event that they need the product for.
Looking at the plan in the short term – investment in growth online – is that a gimmick or is there real customer demand for that service?
At the moment we are trialling same day, evening and Sunday delivery. In fact it's more than a trial, it is a slow rollout process and we are seeing a take up of that in around 2-3% of sales coming through those additional channels.
I don't think it's a gimmick. There are enough people for whom taking delivery during the day is very difficult because there's no-one at home and there's no safe place to leave a parcel so if you live in a block of flats in London it's very difficult.
You said Next will only open overseas stores through franchises, why?
Tastes do change by territory but there are some people in other countries, a small percentage, that do like our fashion. The trouble is there aren't enough of them in any one location to justify opening a shop because if you're opening a shop you have to invest on the basis that you are as good as the local retailers and you have to pay the same rent.
If you are trading online there is no rent, there is no fixed cost and the people who like you will find you.
Other retailers, such as Topshop, are managing to successfully open stores overseas. What is different about Next?
I think it has to do with what returns people expect from the shop. I think younger fashion is more international. For example, Hennes travels much better than some of the older brands which travel terribly. But we could be wrong about that. Our view is we don't need to be the first.
How is the store opening programme in the UK progressing?
Our store opening programme is slower than we would like it to be because of the amount of time it's taking to get planning permission and that's because it's very variable between different councils. So we approach three councils at the same time. In Warrington the store is already built, but in the two other councils we approached at the same time the planning hasn't even yet gone to committee. So there is definitely a difference in attitude and efficiency in regional.
The British Retail Consortium plans to lobby the Government on freezing business rates for next year, what do you think of this?
The bottom line is if business rates are frozen, taxes will have to go up somewhere else. The Government isn't flush with money, so one man's saving is another man's cost.