Danish jewellery retailer Pandora reported UK like-for-like sales rose 11.4% in its second quarter as it recorded a solid group performance.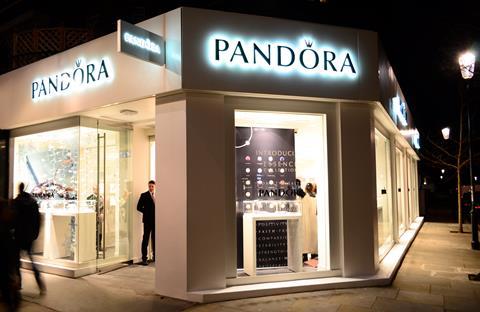 UK sales rise 31.3% in second quarter
Group EBITDA soars 46.8%
Pandora has 169 stores in the UK
Pandora, which is known for its charm bracelets, said UK sales increased 31.3% during the second quarter of 2015. It did not disclose turnover figures.
The retailer has opened 169 stores since it arrived in the UK five years ago. Pandora said rings account for 19% of UK turnover, with the category up 20%. It reported 10% of UK revenue came from online in the quarter.
Pandora, which has more than 1,500 stores across the world, also reported a strong group performance. EBITDA increased 46.8% to DKr1.3bn (£124.3m) compared with the same period the year before. Group sales surged 41.4% (25.8% in local currency) to DKr3.6bn (£341.3m).
Long-term growth
Peter Andersen, president of Pandora Western Europe, said: "During the second quarter, we have seen the ongoing growth of the brand within the UK particularly, a key market for Pandora, and one in which we have successfully increased sales and revenue figures.
"Whilst charm and bracelet sales were traditionally the foundations for the Pandora brand, we are now experiencing significant growth in our other categories such as rings, necklaces and earrings. It is a very exciting time for the brand, both globally and within the UK as we continue to focus on developing our business, opening new concept stores and delivering the long-term growth. "
Pandora said that based on its performance in the second quarter and favourable currency exchange fluctuations, it would increase revenue guidance to more than DKr6bn (£1.5bn).