It is almost a year ago to the day since Next boss Lord Wolfson issued a stark warning about the 12 months that lay ahead.
Wolfson cautioned back in March 2016 that the fashion giant was heading into its "toughest" year since 2008, suggesting that "it may well feel like walking up the down escalator, with a great deal of effort required to stand still".
Well, the good news, if you can call it that, is that Wolfson's crystal ball seems to be in pretty good working order.
The bad news is that Next has indeed suffered amid the gloomy retail landscape that Wolfson painted a picture of so vividly last spring.
"The extent of the high-street bellwether's troubles are set to be laid bare next Thursday, when it reveals its full-year results to the City"
The extent of the high-street bellwether's troubles are set to be laid bare next Thursday, when it reveals its full-year results to the City.
Pre-tax profit is due to come in at around £792m – 3.6% less than the prior year – although Next admitted this "may increase or decrease by £7m depending on trade in January".
Should it decrease by £7m, the fashion giant will have achieved the bottom end of its consensus by the skin of its teeth.
Given that Next's full-price sales fell 0.4% in the 13 weeks to Christmas Eve – even struggling rival Marks & Spencer managed to record improving like-for-likes across a similar period – news of a sluggish January and a full-year profit figure below £792m would not prove too much of a shock.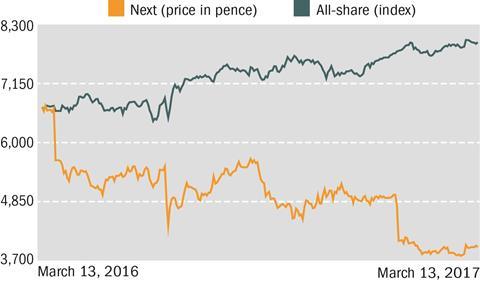 More turbulence
It's easy to see why the retailer's market cap has been slashed by 40% within the past year.
Its share price has slumped from 6,660p per share on the day of Wolfson's warning a year ago to 3,985p at the start of this week.
There is no getting away from the fact that the market Next is competing in is more turbulent than it has ever been.
The Brexit vote has hammered the value of the pound and driven many fashion retailers' sourcing costs through the roof – although Next has previously said that it expected to be able to mitigate that.
On top of that, the national living wage is pushing labour costs in a similar direction and business rates are also on the up in many of Next's key locations.
But Next has to shoulder its fair share of responsibility for its below-par performance.
Competitors' improvement
Simply put, it has allowed its competitors to close what was once a considerable gap.
Next's fulfilment capabilities are no longer the envy of its rivals and the bulk of its apparel has found itself slowly slipping into the box labelled 'dull and dreary', while the likes of Debenhams and M&S attempt to breathe fresh life into their ranges.
Never afraid to use that trusty crystal ball, Wolfson has already suggested that pre-tax profits for 2017/18 would come in at between £680m and £780m.
The former figure could represent a slump of as much as 14% on the £792m profit it hopes to post next week.
But with his new high-street adversaries Steve Rowe and Sergio Bucher slowly adding colour to the relatively blank canvases they were handed, the pressure is on Wolfson to start painting a prettier picture.