Moving out of retail's typically slower summer months, the City is gearing up for a flurry of financial updates next week.
Along with preliminary results from Dunelm – now without a boss following John Browett's shock exit – the next seven days bring half-year results from Next, Morrisons and John Lewis.
Thursday's interims from fashion stalwart Next – following an uncharacteristic period of falling sales and profits – are likely to be of great interest to industry watchers, not to mention the retailer's investors.
The high street bellwether's figures will give an indication as to the overall health of the fashion market and the resilience of the UK high street.
A heritage firm such as Next, with 540 physical stores, cannot operate in a bubble with immunity to shifts in the macro-economic environment – of which there have been plenty over the past 18 months.
But a deeper dive into how Next is faring against this tempestuous backdrop will also reveal if its boss, Lord Wolfson, is doing enough to keep the retailer in the race, particularly as nimble etailers like Asos and Boohoo, and distinctive brands such as Ted Baker and Joules pocket more and more of the UK's fashion spend.
Retail veteran Wolfson has thus far laid much of the blame for Next's trading woes at the door of Brexit and wobbly consumer confidence, dubbing last year the retailer's "toughest" year since 2008, as pre-tax profit slipped 3.8% to £790.2m. But has he himself done enough to fix things?
But has Wolfson done enough since then to reduce the firm's vulnerability to such external factors and fierce competition?
At its most recent quarterly update, the retailer showed some signs of improvement and its share price rallied 10%.
A 0.7% uplift in full-price sales during its second quarter was driven, it said, by a "particularly good" performance within its directory arm – up 11.4% – and warm weather.
Next's directory business is notoriously strong, and recent improvements to its online functionality will have given it added shine.
However, investors will be far from satiated as, in that period, store sales fell 7.4%. And accounting for the wider year to date, full-price sales were still 1.2% behind.
Is Next reaching its 'Kodak moment'?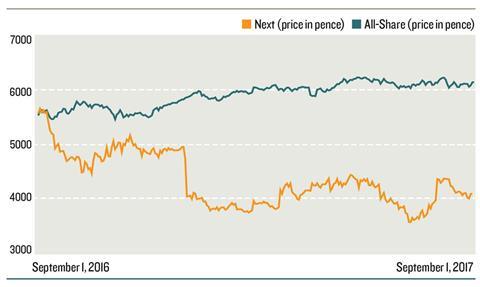 There's some concern that Next's issues are systemic – specifically that its vast bricks and mortar portfolio is a drain on resources.
According to City broker Berenberg, Next's overspaced estate is a burden that "restricts its ability to invest in areas that matter most to the customer – products and free home delivery".
Last month, the broker pointed out that, over the last 10 years, the retailer's store space has increased by a whopping 71%, but revenues from its bricks and mortar operation inched up just 2%.
Berenberg believes that, despite being quick to recognise the online opportunity, Next has "failed to fully adapt its business model", and is focusing instead on making short term gains, leading to market share erosion.
"Management has been too concerned with maximising short-term returns, rather than adapting to ensure longer-term survival," it said.
This short-termist strategy is a stark contrast to that of rival John Lewis, which issues its own interims on the selfsame day next week.
Although it's too early to say if John Lewis' recent initiatives – such as going gender neutral in children's clothing – sending staff to theatre school and launching a tradesman service will pay off. You certainly can't accuse it of standing still.
Next needs to get back on the front foot too, or face being left in its shadows.