The new owner of Peacocks, Edinburgh Woollen Mill, plans to restore the collapsed value fashion retailer to a 600-store business in the next four years as it pumps in £50m of investment.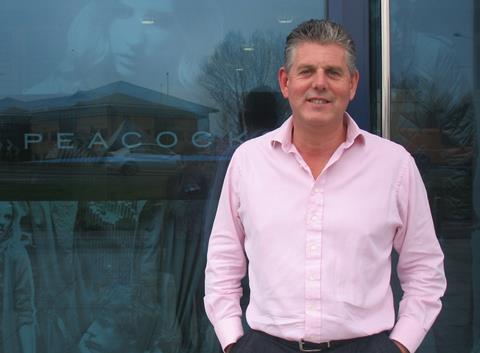 Edinburgh Woollen Mill chief executive Philip Day is now based in Cardiff, where Peacocks' head office is located, to personally lead the turnaround after buying the value fashion retailer last week.
Speaking to Retail Week in an exclusive interview at Peacocks' Cardiff headquarters, Day said he would be "gutted" if he could not improve the financial performance of the retailer in the next 12 months.
Peacocks has been loss-making at a pre-tax level for the last four years, posting a £56.7m loss for 2010.
Day said: "Over the next 18 months we should invest about £50m. The store portfolio is very important and in some cases stores need a makeover."
Edinburgh Woollen Mill acquired 344 of Peacocks' 612 stores and concessions from administrator KPMG following the retailercollapsed last month. Day said the deal was funded through "family investment with support from Barclays and Santander".
Day said: "I don't see Peacocks as a 400-store retailer but more a 500 to 600-store retailer. For those stores that are closed, we will look to replace them with new stores in better locations that fit the retailer."
Edinburgh Woollen Mill has secured leases on a further 30 shops, and is in discussions with landlords on an 35 more, which would take Peacocks' store count to 424.
He added expensive leases agreed in the last two to three years led to "massively loss-making" stores in the wrong locations. "Peacocks would have ended up in liquidation if we hadn't saved it," Day said.
Realigning Peacocks as a value fashion retailer is key to Day's turnaround strategy. He said Peacocks' product offering had strayed too upmarket and that price points became too expensive.
Edinburgh Woollen Mill has become a powerful player in retail. It operates over 1,000 stores across its eponymous, Ponden Home and Jane Norman fascias and plans further acquisitions. However, Day quashed speculation he is building up Edinburgh Woollen Mill for a sale. "I have no interest in selling. I feel the business is a part of me," he said.
Peacocks' relationship with Morrisons will continue. The fashion retailer has a handful of shop-in-shops with the grocer. It will also continue its tie-up with Co-op, where it has about 30 shop-in-shops.
Edinburgh Woollen Mill saved 6,000 Peacocks jobs with the deal. Day wants to reappoint up to 80 head office staff who lost jobs in the administration process. Sue Swannie has returned to head buying.