New Look has suffered a slump in full-year profits and like-for-like sales amid a stark warning that the coming year will "remain challenging".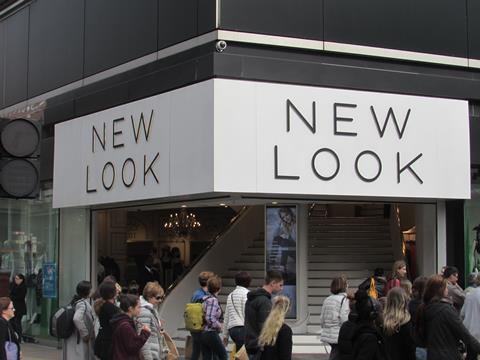 The fashion retailer said adjusted EBITDA tumbled 31.8% to £155m in the year to March 25, due to lacklustre sales performance and ongoing investment in strategic initiatives.
Underlying operating profit plummeted 44.1% to £97.6m as like-for-like sales in its core UK business fell 6.8%.
Like-for-like sales of New Look's own-brand products slipped 6.6%, while total sales were also down 2.4% to £1.45bn.
Online performance proved a bright spark, with sales through New Look's own website jumping 14.3% and third-party ecommerce sales surging 30.9% during the year.
New Look said one third of all orders placed online were picked up from stores using click-and-collect.
Despite its bricks-and-mortar sales struggles, New Look narrowed its pre-tax losses to £16.6m following a £34.9m loss in 2016.
However, New Look said its loss in the previous year was driven by non-recurring exceptional costs of £93.4m relating to the Brait acquisition and bond refinancing.
'Good progress'
The business said "the challenging retail environment" in the UK would continue into its 2018 financial year, but insisted it was making "good progress".
New Look retained its market-leading position in womenswear for under-35 year-olds and took the crown as the UK's leading online women's footwear retailer, according to Kantar data.
It extended its estate of standalone menswear stores to 21 and lauded "encouraging" performance and market share growth in the category.
Internationally, New Look expanded its Chinese business to 110 stores, up from 85 the previous year, and launched dedicated websites in France and Germany.
New Look boss Anders Kristiansen said: "The retail environment is now more competitive than ever.
"We have seen a growing shift in customer mindset during the year to a 'buy now, wear now' mentality, which challenges us to be even faster in identifying and responding to trends, buying with more conviction and becoming ever more agile.
"We've responded by improving our buying processes, working to achieve an even faster supply chain and strengthening our buying and design teams to make sure we deliver a stronger product proposition."
On the business outlook, Kristiansen added: "We expect trading conditions for the coming year to remain challenging.
"We remain resolutely committed to delivering on our strategy for the benefit of all our customers and stakeholders and are confident we have the right strategy in place to do so."