Etailer to focus on womenswear from spring 13 as it looks to ramp up overseas ambitions.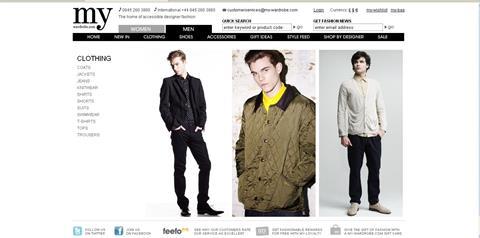 Premium etailer My-Wardrobe.com is ditching menswear next year as it readies itself for global expansion.
My-Wardrobe began contacting brands at the beginning of last week to explain the new strategy, which will be implemented from spring 13.
Brands are being offered the option of cancelling the order for that season's collection with the etailer, and negotiations are now taking place over which orders will go ahead.
The five-strong menswear team, which is headed up by menswear buying manager Lee Douros, will leave the business over the next three to four months.
My-Wardrobe.com has decided to axe menswear to free up greater resources to put behind expanding its womenswear business as it focuses on international growth.
Chief executive David Worby told Drapers: "Menswear is not really our heartland and we want to focus on womenswear.
"We launched menswear [in 2009] and we've had some success but I want us to focus on the parts of the business that will really make a difference."
Menswear makes up about 18% to 20% of My-Wardrobe's overall sales, which reached £12.7m in the year to June 30, 2011.
Up to 20 brands will be dropped due to the decision to ditch menswear ranges from brands such as Barbour, Belstaff, McQ and Folk, as well as men's footwear collections including H by Hudson, Converse and Grenson. It will leave the etailer with between 160 and 180 womenswear brands.
Worby, who has been with the etailer for just three months after leaving his role as director of Harrods Direct, explained: "Looking further down the track I would struggle to see how our menswear arm could keep pace with our womenswear business and what we want to do with it. It would have become increasingly less important, so cutting it now is the right thing to do.
"To make [menswear] a comparable and equitable part of our business we would have had to invest disproportionately huge amounts of money, and that probably wouldn't have been something I'd have been 100% comfortable going to shareholders and asking for."
However, Worby added that he would not rule out the option of diversifying the etailer's offering in the future.
My-Wardrobe has already poured significant investment into its infrastructure, including relocating its head office to Camden in north London, ahead of expansion. It is prioritising new territories such as Germany and the US as part of a two-year strategy.
Although turnover for 2010/11 rose 75%, My-Wardrobe reported a net loss of £3.8m as a result of this investment.
Menswear in short
● Five-strong menswear team will leave in the next three months
● Brands such as Oliver Spencer and Norse Projects to be dropped from the site
● Menswear makes up about a fifth of My-Wardrobe's £12.7m business