Fashion retailer also reviews costs and store portfolio to adapt to difficult market.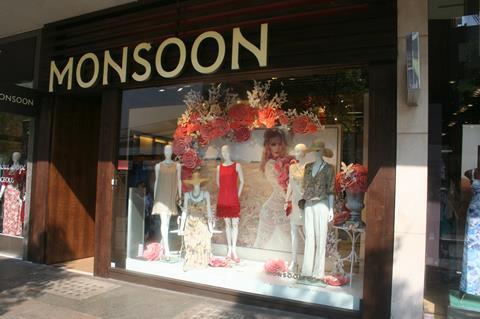 Monsoon Accessorize has pushed the button on a management overhaul as senior executives depart.
The retailer is creating a new management structure and is searching for a chief executive as chief commercial officer Steve Back prepares to leave in September and group managing director Peter Ridler departs the business in July, as revealed on Retail-week.com.
Back will fulfil Ridler's responsibilities until September.
Executive director Nikki Hamwee will head Accessorize specifically as part of the changes. The retailer is on the hunt for a brand director to lead Monsoon in a similar capacity.
Both will report into the yet-to-be-appointed group chief executive. The retailer is also looking for a group finance director to complete the executive team.
It is understood that Ridler and Back have both benefited from Monsoon Accessorize's incentive programme, which has paid out £6.4m to "certain members" of its management team this year.
The changes come as the retailer suffers in a difficult market. Founder Peter Simon said that Monsoon was managing its costs tightly and reviewing its store portfolio to "ensure it is properly configured to address today's market". The retailer is holding discussions with its landlords, which Simon said have been constructive. Monsoon moved half of its operations from London head office to its distribution centre in Wellingborough last year to make efficiencies.
Simon said trading has remained "very challenging" after a difficult year. In the year to August 27, 2011 EBITDA before exceptionals slid 11.7% to £121.4m against revenue, which was marginally ahead at £651m.
The UK and Ireland were particularly hard hit, with total sales down 4%. However, the fall was offset by rising international sales, which jumped 23.5%.
The group is now debt free after paying off the final £75.4m of the £200m Simon borrowed when he took the business private three and a half years ago.
Part of the new chief executive's remit will be to bring new energy into Monsoon. Headhunter MBS Group is undertaking the search.