Jaeger is to launch a raft of tech initiatives including equipping staff with iPads as it seeks to improve customer experience.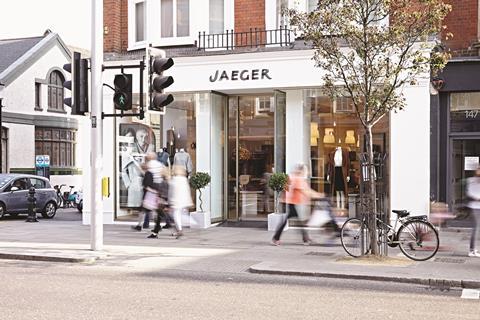 The private equity-based fashion retailer has partnered with tech provider Omnico to launch a host of new initiatives later this year, including issuing customers with digital receipts.
Jaeger, which is two years into a five-year turnaround plan to re-establish the business, aims to use customers' purchase history to showcase product recommendations and send them targeted promotional messages around new products.
Jaeger already has in-store iPads across its stores, enabling shoppers to browse its online offer, but now it plans to arm staff with the devices.
Chief information officer Cathy McCabe said the iPads will primarily be used as a tool to engage with customers.
"The iPad would be used by staff to take into the fitting room to help customers," she said.
"We still feel customers want advice styling and help with fit so we can use that experience to digitally show them more information."
Customer engagement
The retailer, which appointed McCabe in December to look at how the company could transform customer experience, is also exploring a revamp of its existing card-based loyalty scheme.
"We want to engage differently with our customer base and we're starting that by revamping the in-store experience gradually"

Cathy McCabe, Jaeger
"We have a traditional loyalty programme at the moment but we are looking at digitalising it. It's a work in progress but the vision would be that customers won't have a plastic card. Staff will just look them up using their postcode."
The decision comes after former Kingfisher boss Sir Ian Cheshire warned earlier this year that he expects traditional card-based loyalty schemes to "wither".
Jaeger is also planning to introduce a digital client book that will bring together all customer information and history into one central place.
"The digital client book will help us engage with the customer more. Before all the information we had on the customer was based around the loyalty programme and was just information on the till that was very text-based."
"We want to engage differently with our customer base and we're starting that by this process of revamping the in-store experience gradually over the next six to 12 months."
Jaeger's turnaround plan is being led by chief executive Colin Henry. The retailer was bought by private equity firm Better Capital in 2012.