Jaeger is poised to fall into administration this week, leaving the future of 25 stores and almost 700 jobs hanging in the balance.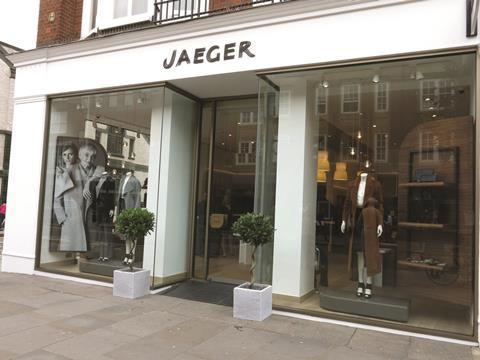 Retail Week understands that Edinburgh Woollen Mill is on the brink of acquiring the fashion chain from private equity owner Better Capital, which has struggled to turn a profit since acquiring Jaeger for £19.5m in 2012.
However, it has emerged that Edinburgh Woollen Mill, owned by Philip Day, is likely to buy the chain out of administration, shedding most of the chain's stores and focusing on selling the brand in concessions and online.
A source close to the situation told The Sunday Times that Jaeger was "well and truly broken" and "unfixable" in its current form, with the majority of its 25 stores currently loss-making.
A spokesman for the company said: "Jaeger has made good operational progress and is performing more strongly. The business now needs scale and further resources to grow – this is the right time for a new strategic investor."
Struggling retailers
Jaeger is the latest retailer to suffer amid turbulent trading conditions on the high street, as the rise of online, rising labour costs and the tumbling value of the pound following the Brexit vote all continue to bite.
Jones Bootmaker was rescued by Endless in a pre-pack administration deal last week, although its former stablemate Brantano collapsed into administration.
The value shoe retailer's stores are now likely to be sold off in parcels, with footwear rival Shoe Zone thought to be among those eyeing its shops.
As revealed by Retail Week, 99p Stores tumbled into administration last month less than two years after it was acquired by value rival Poundland, while Store Twenty One is also thought to be in talks with lenders over its quarterly rent payments.
At the start of March, Sports Direct founder Mike Ashley snapped up high-end lingerie business Agent Provocateur in a pre-pack administration deal after trumping rival bidder Lion Capital.