As George Davies gears up for the UK launch of FG4 this week, he talks to Retail Week about how the clothing retailer will fit into the market.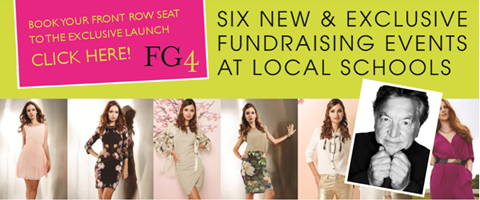 It has been four years since serial fashion entrepreneur George Davies launched his kidswear range FG4 in Saudi Arabia. Now the brand – which Davies says stands for "Fashion by George for women and kids" – is soft-launching on March 12 online and through direct selling at schools.
A veteran of the industry, Davies was involved with the launch of Next in the 1980s and the George clothing range at Asda, as well as turning around Marks & Spencer thanks to his introduction of Per Una.
But his vision for FG4 is of much more than just another fashion retailer. Davies says he has always launched his brands in a different way from anyone else. And FG4 is turning heads as it approaches its launch on Thursday.
The plan is to launch FG4 softly, with schools hosting fashion shows that will get the brand name out to consumers. Schools will sell tickets at £5 and retain all box office proceeds, and Davies says that any sales made at the event or after will also help to raise money, as around 5% proceeds from clothing sales will go back into the school.
I'm not under pressure from the shareholders. I can do what the hell I want

George Davies
"I'm not anxious to lose money," says the 73-year-old. "But I've always done things that are different from anybody else. So my satisfaction will be doing it differently.
"One of the problems big industries face is that they've got to do something that bottom-line makes money. I don't want to lose money, but I'm not under pressure from the shareholders. I can do what the hell I want."
Cautious approach
Davies is still cautious, and says he never takes anything for granted. At the moment he is more nervous about selling the school fashion show tickets than selling his clothes at the events.
Davies seems to thrive on the nerves and adrenaline that come from launching a new business, comparing it to playing and watching football. A Liverpool supporter, he played for Bangor City in his youth and is still an avid football fan. "But I can't watch Liverpool on the telly," he explains. "It's just my make-up.
"I'm not negative. If for some reason we don't get the take up from the fashion shows, it will teach me what we need to do," he says. "And if it works it becomes even sweeter."
His attitude towards failure is to learn from it and move on quickly. Just before he took FG4 to Saudi Arabia, he launched his charitable fashion brand GIVe, but it wasn't to see out the recession.
"Quite frankly it would have taken years," explains Davies. "But nobody lost money, I decided it wasn't for me."
Franchising
Eventually, the idea is to roll out physical stores in the next year. Davies plans to open up to 200 shops, and suggests just 20 would be wholly owned, and the remainder would be franchised.
He is seeking franchise partners that know the local area well, and wants to help smaller boutiques that are struggling on the high street.
But nothing is set in stone, and 40 years after launching his first business, which sold children's school uniforms, he knows when to take risks.
"The point is, don't take unnecessary risk," he says. "If I was starting from scratch, because of the size you need, then you have to take a risk. But because off the back of my manufacturing partners I've got great relationships, I visit them myself. I love that."
"So what I'm trying to do is make ladieswear day-to-evening very special but affordable," he adds.
Looking good
Sitting in his studios in the Cotswolds, Retail Week gains a sneak peak at the summer FG4 clothing range. Considering it is being aimed at schoolchildren and mothers, it does not conjure up the image of "mumsy". The womenswear is glamorous with attractive detailing, in bright and neutral colours, from sleek maxi dresses to fringed kimonos. The kidswear range features pretty dresses, smart shirts and T-shirts.
Davies says prices will range from £40 to £65 for women's dresses, while girls' party dresses will be priced at around the £25 mark and kids' jeans will cost between £10 and £16.
He says he always tries to support the local textiles industry, and in fact 15% of FG4 products are sourced from the UK. Davies points to Leicester in particular as one area that will benefit from the model.
Patience is a virtue
So what is the biggest challenge for Davies in the coming year? He says it will be his lack of patience.
"I'll probably try and open stores quicker than I should," he says. "I also may have misjudged the market and people won't want to come and support the school – just because I want to support them, I'll only find out whether the parents will."
Davies says there will always be surprises when launching a new business, however successful it might become. He says the biggest surprise when launching Per Una was running out of stock in the first two months.
"At the time you can't say to M&S 'oh well' - I had no bloody stock and I'd even brought in some of my spring stuff earlier. So you forget about your launch success," he explains.
"But once you've got the rhythm you can actually start manning the orchestra and playing the tune."