Retail Week looks inside German online fashion giant Zalando, which despite recent trading pressure is vying to become an 'operating system for the fashion world'.
Zalando has had a rough ride of late with its share price plummeting after two profit warnings but the Berlin-based etailer remains bullishly ambitious.
The long, hot summer, more extreme in Zalando's continental heartland than in the UK, dampened sales of higher-margin cold winter clothing and depressed sales and profits. Despite its troubles, Zalando has reiterated its ambition to double sales by 2020.
"While current trading in the third quarter clearly does not reflect our ambition, our growth story remains intact," co-chief executive Rubin Ritter insisted.
Zalando is just 10 years old but it is already an online titan. Set up to ape shoeseller Zappos.com – the dotcom pioneer that Amazon acquired in 2009 – by university friends Robert Gentz and David Schneider, Zalando now generates £3.85bn of sales a year across 17 markets and sells 2,000 brands.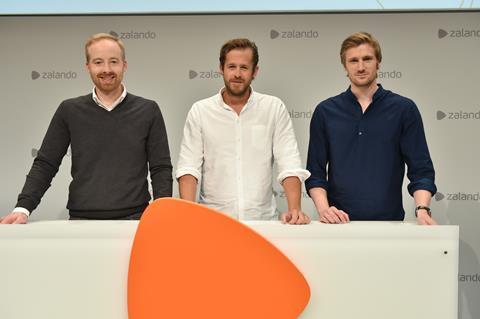 Like Zappos, Zalando originally started out by selling shoes and adopted Zappos' model of offering free shipping and returns. However, the business has changed radically over the past decade and now sells a vast selection of fashion and, as of earlier this year, beauty.
Unlike many of the UK-based etailers who cater purely for millennials or gen Z-ers, Zalando sells brands aimed at every age group, from LK Bennett to Beyoncé's Ivy Park.
This is just the start of Zalando's journey. The online retailer is vying to become a platform business or, as it describes it, "an operating system for the fashion world".
Zalando's platform model functions via partnerships with other retailers and brands, which Zalando weaves into its network. The more brands it sells and the more choice consumers are offered, it reasons, the more customers there will be which, in turn will attract even more brands and help Zalando to become the go-to operator for consumers, brands and retailers.
Zalando provides the operational aspect of online retailing to help brands do anything they cannot or do not want to themselves, from marketing (Zalando Media Solutions) to logistics (Zalando Fulfilment Solutions).
It is this service-oriented package, ready to be rolled out to whichever global brand requests it, which distinguishes Zalando from UK etailers such as Asos and Boohoo.
When Retail Week visits co-chief executives Gentz, Schneider and Ritter in Berlin, it is clear they have made significant progress towards Zalando's goal of becoming a platform, though they insist there is lots more to do.
"We still feel like we are at the beginning," says Ritter. "We have built our base and can look ahead to the next few years. If you look at the next 10 years ahead, there is still so much we can do."
In the short-term, it has the target of doubling its revenue over the next two years, which, despite its current challenges, Ritter is confident of hitting: "That means we have to generate £1.5bn additional business a year and that is a big number, so it means we have to do a lot and invest a lot to make Zalando better and better along the way."
Zalando is focusing investment on four main areas: personalisation; brand and product assortment; technology; and logistics.
Personalisation
Personalisation is a huge focus for Zalando as it needs to help its customers cut through its huge assortment and diversity of brands.
Forging a connection with the customer is more important in fashion retail than in any other category and a vast offer can work against a retailer as customers can feel overwhelmed with products that do not appeal to them.
Zalando's ultimate aim is to offer a unique homepage to every customer that clicks on the website, serving up an ultra-personalised experience.
Zalando has been working towards every customer having a totally unique homepage for the past two years but as new technology emerges, new possibilities emerge. Schneider says personalisation is "probably the most complex area of investment we have".
This task is also made more difficult by Zalando's ever-expanding assortment. "We find ways to offer our customers an extremely broad assortment – 2,000 brands and 300,000 SKUs – while finding the items that are most relevant for one individual and that is a task that is not easy," he adds.
"We do not want to dump 300,000 SKUs on the site and leave it to you to find the right one. I think there are many ways we can help our customers here."
Zalando's first port of call when attempting to serve its customers a unique homepage was to break them down into seven segments called 'Z-types':
'happy casuals';
'fresh families';
'modern mainstreamers';
'hip poppers';
'preppy strivers';
'cultured elite'; and
'street snobs'.
Zalando Media Solutions analysed the buying patterns of 22 million customers to come up with these types and layered these with data from 31 million anonymised Facebook users' social media patterns to gauge a deeper understanding of how the types behaved.
The etailer then takes that data, together with a user's recent searches, and feeds each user a personalised homepage based on their Z-type and their recent searches. As a consumer ages and continues shopping, their habits become more engrained and a deeper, more accurate picture of them emerges.
It also offers customers a style advice service, Zalon, which connects consumers to freelance stylists, and provides the business with even more information on how its customers think, which it can then pass on to partner brands in a bid to bring them further into their ecosystem.
Stores
Zalando is not just using online to connect with its customers, it is also going offline and opening stores in targeted categories.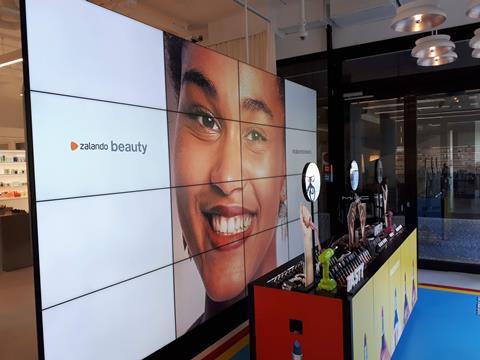 Zalando views stores opportunistically and uses them selectively to achieve certain ends, rather than as a wider marketing and customer engagement tool. Every bricks-and-mortar venture must feed into its platform strategy.
The retailer opened its first discount store, Outlet, in Frankfurt in 2018 and has continued to open them around Germany. It now has five stores in major cities across the country and is planning more. The stores are designed to shift stock that cannot be sold online as it is from previous seasons or is slightly damaged and therefore highly discounted.
Zalando's most recent foray into bricks and mortar is a complete departure from its mission-driven discount hubs.
The Zalando Beauty Station is all blush pink walls, exposed concrete pillars and artfully arranged single ferns dotted around the place. In other words: millennial catnip.
The beauty store was opened in conjunction with Estée Lauder and sells many of the cosmetics giant's brands including Bumble & Bumble, Le Labo and Mac. It also sells non-Estée Lauder brands such as Lixirskin and Rodial, offering 53 different brands overall.
Crucially, its offer is centred around customer service with nail bars, makeup tutorials and skincare consultations all on hand.
While the store offers a much tighter edit of products compared to Zalando's online beauty offer – which comprises 5,000 products from 150 brands – its interactive, tactile offering is primarily aimed at connecting with consumers on a human level, a tactical approach from a usually faceless etailer.
While the beauty category is booming online, 90% of beauty sales still take place in store according to Global Data, so Zalando's decision to establish a bricks-and-mortar presence ties into a category that is still heavily skewed towards physical stores.
Partnerships and brands
Despite selling 17 private 'Z labels', Zalando sees itself as marketplace rather than a retailer as it only makes between 10% and 20% of its sales from its own label products.
"Assortment is a big strategic priority," acknowledges Schneider. Consequently, Zalando sells product at almost every price point from luxury designers' diffusion lines such as M by Missoni and McQ by Alexander McQueen, right down to Missguided and New Look. It also sells luxury accessories from Burberry and Gucci and lingerie from Rihanna's sought-after Savage x Fenty label.
But Zalando's work with its partners extends far beyond offering a wide range of product to its customers. The etailer maximises every opportunity to enmesh its brands into its ecosystem, similar to Amazon's way of working.
Brands have the option of either selling stock to Zalando on a wholesale basis or retaining control of their stock and pricing via its Partner Programme, for which the etailer charges commission.
If brands opt for the wholesale option, Zalando takes control of the product and manages content and prices.
The Partner Programme, established in 2014, charges brands commission.When brands join the Partner Programme they have much more control than they would via a wholesale agreement. They set prices and ship items from their own warehouses and shops - with offline brands able to join Zalando's partner programme too.
The programme gives Zalando a greater wealth of brands, with those brands able to tap into Zalando's audience. Brands which already wholesale with Zalando can also showcase additional product, that Zalando has not bought on a wholesale basis, on the site via the Partner Programme.
In return for selling on Zalando, all brands have to sign up to a 100-day returns policy, established to try and boost its customer proposition and win against the likes of Amazon.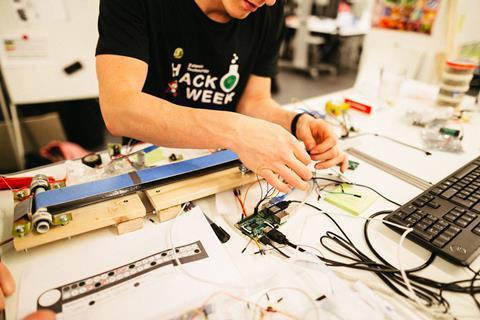 The etailer continues its network approach by offering all its brands customer purchasing data and marketing solutions via Zalando Media Solutions.
Zalando then manages everything from data analytics to advertising campaigns on behalf of its brands and even match them with influencers via Collabory, the influencer agency it runs.
Tech and innovation
Zalando sees itself as both a fashion and a technology business and invests heavily in its technology infrastructure in a bid to make itself invaluable to the various brands that sell on it.
"We want to offer our brand partners a platform that primarily consists of logistics solutions and technology solutions because this is where we see the biggest economies of scale," says Ritter.
"We think it makes sense for us to invest and build infrastructure that consumers and brands can buy and sell fashion on. That continues to be a huge area of investment for us."
Zalando has three technology hubs in Germany and one apiece in Dublin, Lisbon and Helsinki. These labs work on ensuring the day-to-day reality of shopping with Zalando keeps pace with the etailer's ambitions and the rest of the market.
In Ireland, R&D staff focus on deep data and engineering and are working on building real-time analytics around its fashion offering. In Portugal, employees are focused on developing the Fashion Store app, while in Finland the focus is on personalisation.
Zalando also runs a research-focused lab in Berlin, where scientists project how certain technologies will be used in the future and work towards making it a reality at the business.
The lab's work is currently centred around AI, with researchers focusing on machine learning 'natural language processing' – a branch of AI through which computers can learn to understand and talk like people – and 'deep learning' – the next step of machine learning, which acts like a human brain and analyses data as a human mind would.
Researchers are currently working on AI-powered fashion adviser, which would act like a stylist by understanding product and trends and recommending them to the consumer.
Alongside Zalando Research, the business runs an annual tech-focused Hack Week for the whole organisation and a quarterly 'Slingshot', where staff are asked to come up with ideas to transform the customer experience that can then be 'slingshotted' into existence by awarding funding.
Both initiatives involve employees stepping away from their usual roles to come up with ideas to develop the business.
Each has had concrete business benefits with Hack Week teams developing an image recognition tool prototype that eventually became Zalando's visual search function in its app, and Slingshot prompting it to pilot an on-demand suit alteration service.
Logistics and supply chain
Zalando operates a partially automated, pan-European, hub-and-spoke distribution model with huge Central European 'hub' warehouses staffed by 2,000-3,000 people complemented by 'spokes' located near key cities for the etailer, such as Paris, so it has product readily available for busy markets.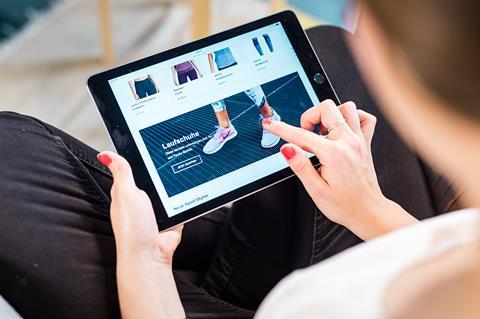 "We try to be clever about how we distribute across the network," says head of logistics development Carl-Friedrich Rico zu Knyphausen. "We develop algorithms to predict which items will sell best in France, for example, and then we make sure to replenish that very early on.
"That is the kind of logic we use – we work through prediction and algorithm to optimise that set up. The longer you wait for delivery, the more likely it is that a customer will return the item. So we really try to invest in lead time."
It then distributes product through three methods: Zalando Fulfilment Solutions, drop shipping or via its Gax system.
Zalando Fulfilment Solutions offers brands that do not have infrastructure in Europe the chance to piggyback the etailer's logistics network, with stock stored in a Zalando warehouse and sent to customers in the same parcel as the rest of their order. The Gax method dispatches product from brands' local stores.
"Gax is a really cool product," says Knyphausen. "For example, if you have a shop somewhere very close to the customer, we believe that it is not necessary to send the product from our warehouses, so a partner could fulfil it on our behalf and send it quicker than we could.
"It's win, win, win. The customer gets the order quicker, the retail store will make additional revenue and we do not have the hassle of replenishing."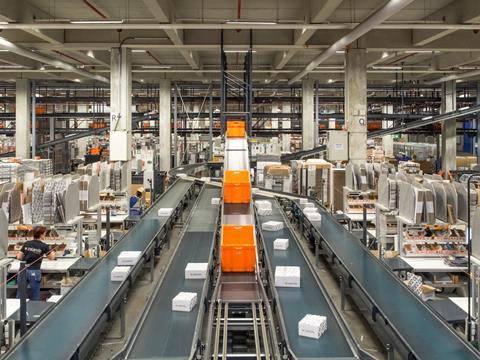 However, Ritter cautions, this system is not without its challenges. "This is relatively complicated because shops are very different," he says. "Sometimes shops don't know their own inventory, so we need to find ways of doing this but we think it is very exciting from both a brand and customer perspective."
Zalando has proved it is not immune to the challenges faced by the rest of fashion retail, but it should not be dismissed.
In its 10th year, its annual sales exceed any UK fashion etailer of note and its continued investment in technology and platform mindset mean it is well placed for future growth. It may have been a copycat – but it is now putting the originals in the shade.