Fashion sales have sizzled in the heat, providing a boost to under-pressure clothing retailers before autumn ranges hit stores.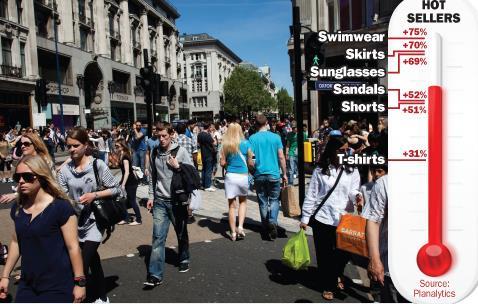 The rising mercury produced a much-needed sales lift following an unseasonable spring, which hit apparel retailers hard.
Margins are expected to have improved for some over the past month as the prolonged hot spell enabled retailers to shift more summer lines at full price.
Sales of summer products rocketed as temperatures passed 30oC. Debenhams' bikini sales jumped 37.5% last week and it sold more shorts than any week in its 200-year history. George at Asda sold £1.1m worth of bikinis last week.
Anthony Thompson, chief executive of Fat Face, which this week revealed a 29% jump in full-year EBITDA, said: "Sunshine is good for Fat Face. I can't see a downside for the clothing market when there's sunshine before holidays."
Thompson said the retailer's Sale period had been shorter than last year and it would come in under its budgeted level of markdown in its quarter to August.
PwC chief retail adviser Christine Cross said: "There's been a purple patch in July. We can expect double-digit year-on-year sales growth. Some have delayed their Sale and have sold at a lighter discount."
One fashion chief executive said sales of seasonal products have gone "through the roof" since the warm weather hit, but added that the weekend trade had been tough "as people stay home for a BBQ or go to the beach".
The hot weather has caused some logistical challenges. Debenhams has launched 'Operation Staycation' to move seasonal stock to coastal stores to keep up with mounting demand.
Despite the sweltering conditions, many fashion retailers are now bringing autumn ranges into stores. Marks & Spencer, for instance, launched its much-hyped new collection this week.
Supergroup chief executive Julian Dunkerton said he would only introduce autumn ranges when "the weather turns".
He said: "The fashion industry gets it wrong by bringing in Sale too early. The kids have just broken up but most people are bringing in autumn products," he said.
Forecaster The Weather Channel Companies expects a cooler, wetter August, which should help propel sales of autumn lines.