Savile Row-inspired offer marks brand's decision to switch from disposable fashion to quality clothing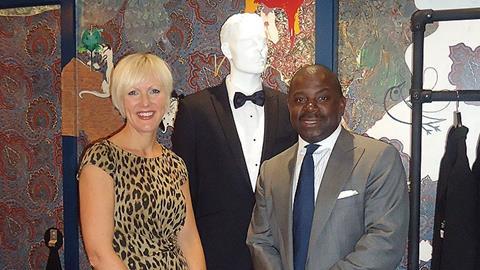 Asda fashion brand George has teamed up with renowned tailor Charlie Allen for its first designer collaboration as it hailed the end of disposable fashion and the start of a focus on quality.
Charlie Allen for George, which will include suits for £79, is a capsule range also comprising shirts, ties, formal coats and footwear. The suit price is 94% cheaper than a Charlie Allen bespoke suit, which retail from £1,500. The range launches on October 24 in 37 stores and online.
Savile Row-trained Allen, who designed the England football kit for this year's World Cup and is designing for Arsenal, first worked with George brand director Fiona Lambert 20 years ago as part of the design team on the brand's launch.
The initiative forms part of Asda's push towards quality. The range will be covered by a no-quibble 100-day guarantee enabling customers to return items if they are not satisfied with the quality. Materials in the Savile Row-inspired range include wool blend suits, merino wool cardigans, cotton shirts and leather shoes.
Lambert said: "The days of disposable fashion are over and customers are now looking for products that last.
"People are looking for quality across the board, not just in tailoring, and with our investment in quality we have the lowest return rates ever on clothing."
She also said that the recession had prompted male customers
to spend more on suits. "It's a
difficult job market and people always look more professional in suits both at work and for interviews so we have seen growth in tailoring and in our men's formalwear," she said.
Lambert said that, while it was a relatively small part of the George business, menswear was growing and added that the designer collaboration was part of the retailer's plans to double the George business within five years, which it outlined at the beginning of the year.
The range also includes coats for £59, cotton shirts and ties in box sets with matching twist knot cuffs, a tuxedo suit with a jacket for £50, trousers at £29, and cotton shirts with double cuffs from £16.
She said George was also mulling further designer collaborations in other categories.