Value footwear specialist Shoe Zone today reported a slight rise in full-year profits, but total sales slid as it closed loss-making stores.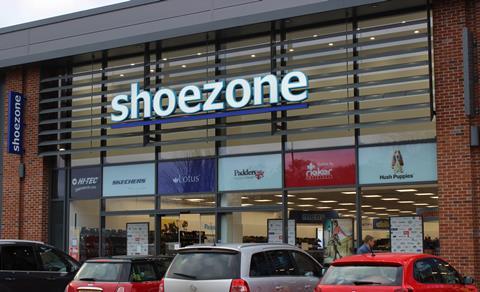 The Leicester-headquartered business, which celebrates its 100th anniversary this year, currently operates from 510 stores, but still has 40 loss-making stores.
It plans to close 20 more such branches by October.
The retailer, which floated in 2014, endured a tough time in the first half of its financial year to October 1, 2016, partly due to unseasonable weather.
It also continues to contend with the challenge from value competitors such as Primark and New Look.
But Shoe Zone is focusing on key areas in order to up the ante.
So how are its plans taking shape?
Project Big Box
Shoe Zone is piloting three 'big box' stores in out-of-town locations in Launceston, Cornwall, Durham and Kirkstall Bridge, Leeds.
Boss Nick Davis, who took over as chief executive last June, says the stores are an attempt to "broaden the customer base and open larger stores with higher revenues".
"We will not neglect our bread-and-butter format [on the high street]"

Nick Davis, Shoe Zone
"The first stores have gone really well and are already really profitable," he points out.
The stores, whose the average size is 3,500 sq feet in retail space, and 1,500 sq feet in storage space, contain 400 of its standard product lines as well as 400 branded lines.
In a change from its core high-street offer, brands appear at the front of the shops.
Davis says three or four more big box stores will open by the spring, with the potential to open 10 a year – including some on the high street.
However, he is keen to point out it will be a "complementary model". He adds: "We will not neglect our bread-and-butter format [on the high street]."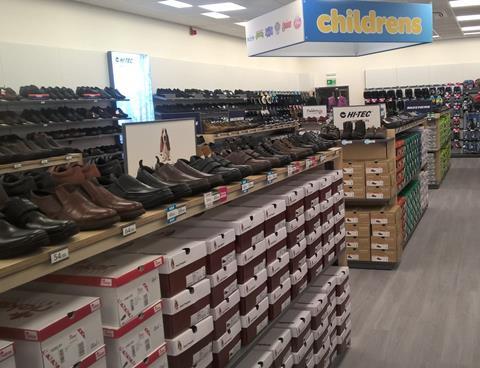 New product ranges
Beyond its core footwear range, Shoe Zone is continuing to see good progress on ranges including handbags, school bags, lunch boxes, purses and accessories. Sales of non-footwear product rose 26% in the year.
Davis says: "We've had some great success in scarves, socks and umbrellas, purses, wallets. We are looking for complementary things that will increase sales. Around the cash desk we are trying to see if we can bolt on other products."
Logo makeover
"We want to attract a younger customer and broaden the base"

Nick Davis, Shoe Zone
Shoe Zone has changed its logo to give it a more contemporary feel.The logo is being rolled out with store refits and has already being used on in-store and web marketing.
"We want to attract a younger customer and broaden the base," says Davis. The logo's lettering is now white as opposed to orange. Davis admits: "The orange gives it a dated feel, but the blue is more contemporary."
Mobile-first and ecommerce drive

Shoe Zone says 75% of its visitors online are now through a mobile or tablet. "Mobile is a big focus for us," says Davis. Mobile conversion rates have reached 3.39%, up from 2.88% the prior year.
Last summer, the retailer's ecommerce operations were moved to a dedicated online distribution zone in its Leicester distribution centre.
However, according to Verdict analyst Kate Ormrod, Shoe Zone has some way to go to catch up with its rivals online.
"Its website design lacks the bells and whistles that leading online players such as Asos and boohoo.com, which Shoe Zone should be seeking to emulate, have invested in," she says.