Asos boss Nick Beighton today revealed the business' aim to reach £4bn net sales, saying that the etailer was readying itself for that growth.
Asos sales currently stand at £1.9bn, so to double that sounds like a tough ask.
Beighton refused to divulge when the etailer was aiming to reach its ambitious £4bn target by, but looking at Asos' sales trajectory, it's not as far off as it might initially appear.
Retail Week's extrapolation of Asos' sales figures uses the etailer's average growth rate over the past three years to predict how long it will take for its top line to reach £4bn.
By our calculations, Asos will reach that figure by 2019/2020 – a mere three years.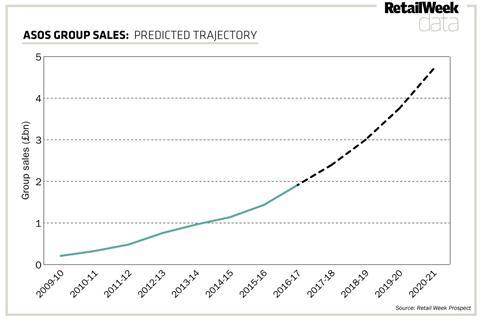 Asos' international growth, which has rocketed by a mammoth 2,000% over the past eight years, will be its growth engine.
Based on its current sales trajectory, Asos' UK sales will fail to keep pace with that astronomical growth − it has risen a comparatively modest 350% during the same time period.
This year, international retail sales surged 47% as its international markets blossomed, raking in £1.17bn, while UK retail sales climbed 16% to £698.2m – compared to a 27% rise in the previous year.
And Asos is not pulling any punches when it comes to investing for that future.
By this time next year, it will have laid the foundations to process that £4bn in sales.
It will complete a 1,000-strong recruitment drive over the next 12 months and throw open the doors to a major US distribution hub in Atlanta, which will be operational from autumn 2018.
It's this relentless focus on investment that Beighton hopes will keep Asos at the top of the etail tree, as an increasing number of upstarts attempt to knock it off its perch.