Marks & Spencer is cutting jobs to become a leaner business, but boss Steve Rowe may have limited room to drive productivity further.
Number of UK employees and UK sales per employee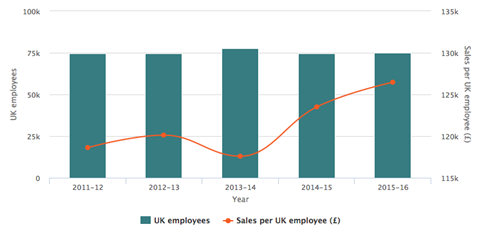 Marks & Spencer's headcount in the UK had been rising steadily up to the year to March 2014, but was cut back to just below 75,000 during the following year in a bid to boost productivity. It remained at that level in 2015/16.
The reduction in the number of staff contributed to an improvement in sales per employee, despite M&S's relatively lacklustre sales performance over the period.
Sales per employee surpassed the £125,000 mark last year, which means the figure has improved by around 7.5% since 2013/14. The high figure means that M&S chief executive Rowe may find it difficult to push it further.
While the 525 roles that will now be cut – which are all central support roles – represent a considerable reduction in staff numbers, it is still well below the decline of more than 3,000 that took place during 2014/15 – although that may have partly reflected a strategic shift towards using more full-time workers rather than part-time staff.
Department store retailers' staff costs to sales ratio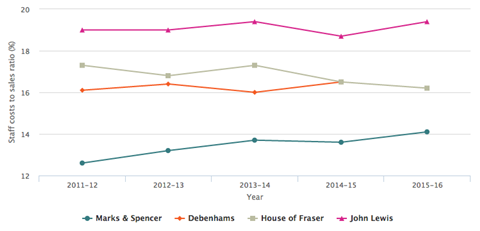 According to M&S, the change of its head office structure will deliver "significant cost savings", which is expected to be around 1% of its UK cost base.
The retailer's staff costs to sales ratio – which states the overall group's staff costs as a proportion of total sales – had indeed been moving upwards in recent years. However, these figures are only available at the group level so may be slightly different for its domestic operations.
Marks & Spencer's staff costs to sales ratio compares favourably to its other major department store sector competitors. Its operations do differ considerably from the others though, in that its food operations account for 58.2% of its UK sales.
As a comparison, the big four grocers typically have a staff costs to sales ratio of around 11%.