Clarks has revealed a 1.4% rise in full-year pre-tax profits, but sales were hampered by "stiff trading conditions" in the UK and Ireland.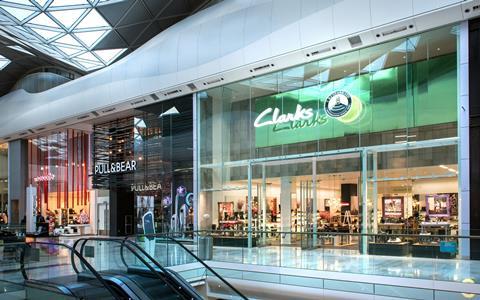 Pre-tax profits up 1.4% to £121.5m
Group sales fall 3.2% to £1.49bn
UK & Ireland like-for-likes down an average of 3.6%
Group operating profits rise £128.9m
In accounts filed with Companies House, the privately-owned footwear retailer disclosed that pre-tax profits in the year to the end of January climbed to £121.5m, boosted by lower pension and interest costs.
However sales fell 3.2% to £1.49bn.
Clarks' chairman Thomas O'Neill pointed to "stiff trading condtions" as shoppers "consistently and actively sought out value purchases". He added: "During the second half of the year, the retail high street took on a hugely promotional posture with footfall consistently down over the prior period."
UK and Ireland like-for-likes slipped by an average of 3.6%. Chief executive Melissa Potter said the retailer had been forced to "engage in unplanned promotional activity, which in turn diluted both prices and margins".
She also blamed Black Friday for the poor sales performance, pointing out the phenomenon had "sucked demand out of the market for a number of weeks ahead of the Christmas holiday period".
Clarks' group sales were also affected by a 10.6% fall in its US sales and a 23% drop in profits in the country.
The retailer was also hit by damage to a supplier's factory in Vietnam, leading to a shortage of Clarks Originals shoes and men's' Gore-Tex.
Looking ahead, Potter warned that the retail climate "remains strongly price-sensitive and footfall continues to decline as tradtitional retail formats come under pressure from online growth".
Clarks paid out £26.4m in dividends in its last fiscal year, up from £24.4m, the filing disclosed.